Stripe Terminal Setup and Configuration

1) Reach out to support@rockgympro.com to create an RGP Stripe Custom account
2) When your account is created go to payments.rockgympro.com to verify business details and specify your bank account for your deposits/payouts
3) Once account details have been verified your RGP database will be linked and you will be able to begin processing online transactions.
4) Communicate with RGP Support if you want to use Stripe Terminal for your in-person Point of Sale and how many Stripe Terminals you need. RGP Support will order and have them delivered to your facility (Please note, Stripe Terminal is currently only available in the US, CA, IE, and the UK)
5) Once you receive the terminals turn them on - plug them into your ethernet - run any updates. Then go to payments.rockgympro.com - Terminals tab to register the reader(s). On the terminal keypad enter the number 0-7-1-3-9 a unique registration code will appear that you will enter in the payments dashboard. Once registered you will receive a notification on the terminal screen.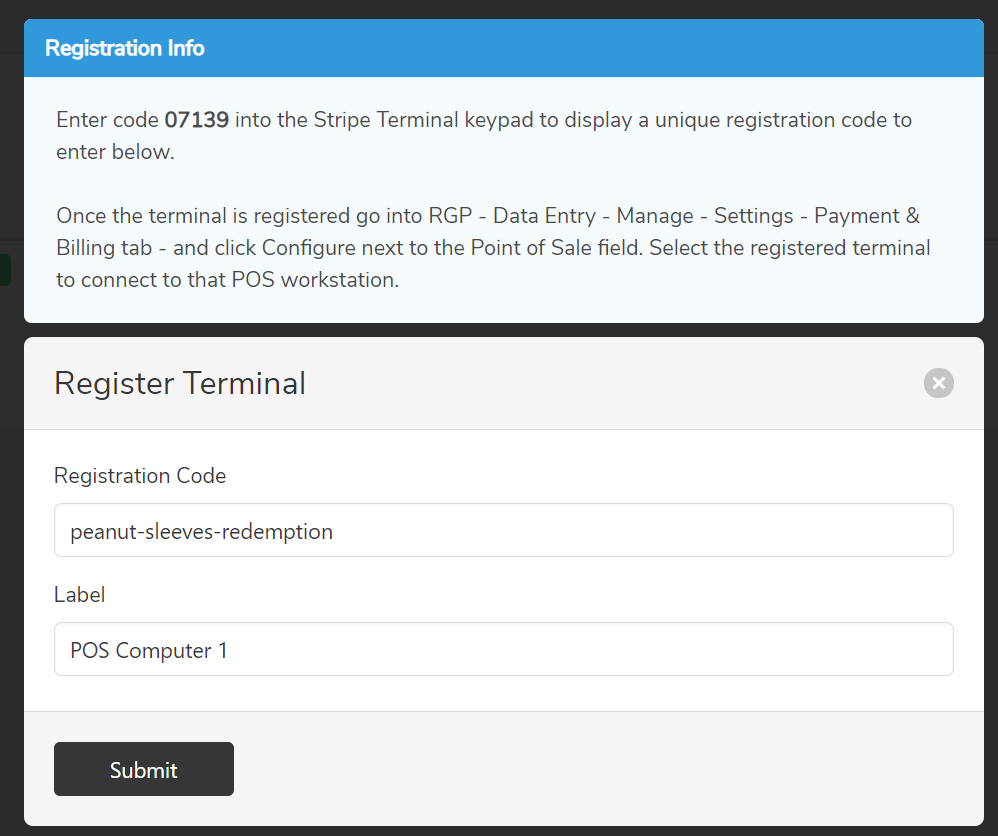 6) In Rock Gym Pro, go to Data Entry >> Manage >> Settings >> Payment & Billing and select Stripe Terminal from the Point of Sale dropdown menu.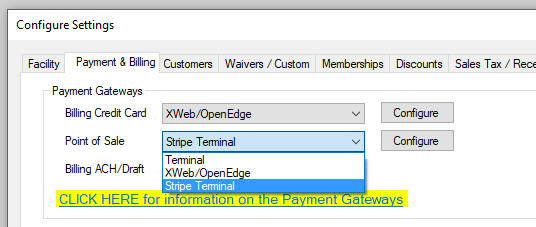 7) Click on the Configure button and choose the location and card reader you've just set up.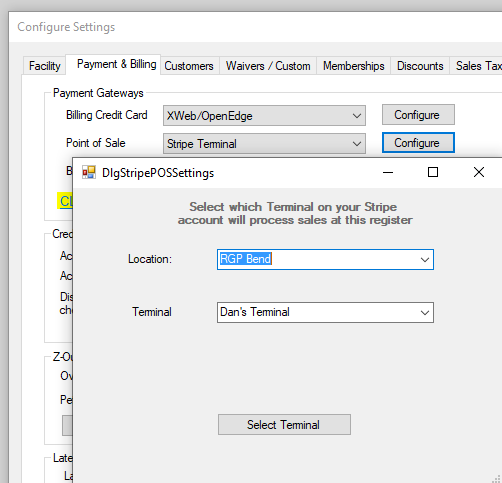 If you don't see your card reader listed in the dropdown menu, close the Config Screen and check your Stripe account to ensure you have the correct reader.
Selecting the Terminal is unique to each workstation so repeat this last step for each POS computer.
(Data Entry - Manage - Settings - Payment & Billing - Configure Stripe Terminal - Select Terminal)
CLOUD CLIENTS ONLY -- Make sure your cloud client version is at least v1.130153.
Download the most recent Cloud Client Update.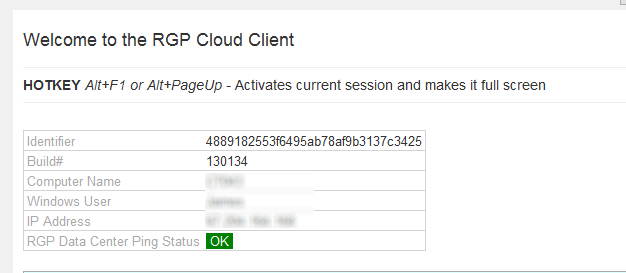 Your setup is complete!
Using the Stripe Terminal at the POS
1) When processing payment, select the Credit Card button.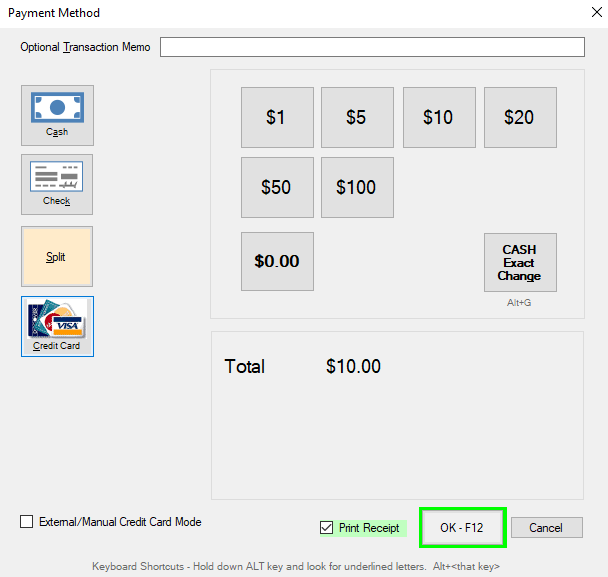 2) This will bring up a dialog showing the status of the transaction.


The card reader will activate and the customer can now scan their credit card to complete the transaction. From this screen, you also have the option to cancel the transaction.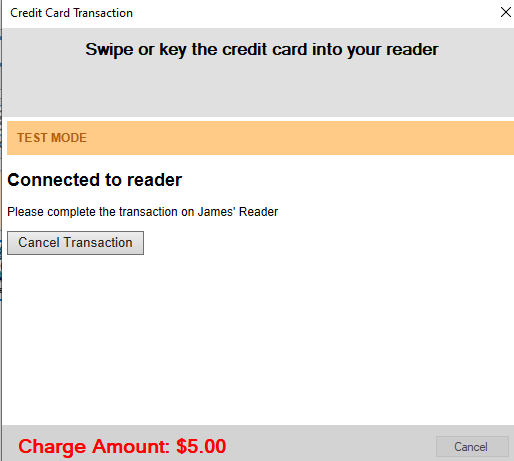 Clicking the Cancel Transaction button will close the dialog box, and clear the terminal so it is ready for another transaction.
NOTE FOR CLOUD CLIENTS ONLY -
The informational dialog box will be displayed separately (possibly hidden behind the Rock Gym Pro application). In these cases, you will see an information progress dialog box, indicating that the transaction is taking place.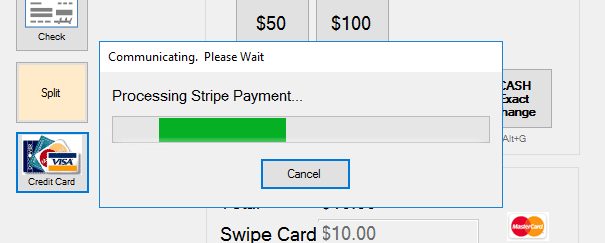 Also, please note that this process may take a bit longer when using RGP Cloud. Because of limitations with how Stripe interacts with its terminals, all communication in this particular dialog takes place on the local machine - similar to how a receipt printer or cash drawer would behave.
TROUBLESHOOTING TERMINAL CONNECTIVITY:
1) Make sure your terminals and POS computers are on the same network (both private vs. guest).
2) We highly recommend connecting both the terminals and POS computers via an Ethernet cable. If you do not have enough Ethernet ports you can purchase an Ethernet Splitter or Switch to turn one port into multiple ports. Or you can purchase an Ethernet Powerline Adapter to turn your electrical outlets into Ethernet ports.
3) Internet Explorer may be blocking access due to its security settings. To fix this:
Open Internet Explorere. Navigate to tools (settings gear in top right corner) > Internet Options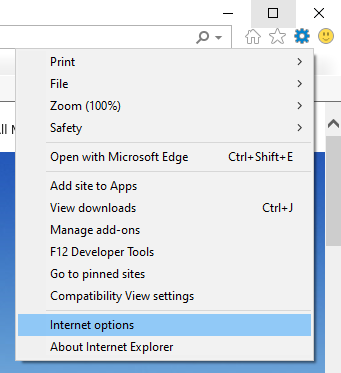 > Security > Trusted Sites > Custom Level > Scroll down to find 'Miscellaneous > Access data sources across domains" and change to 'Enabled-ON', then OK.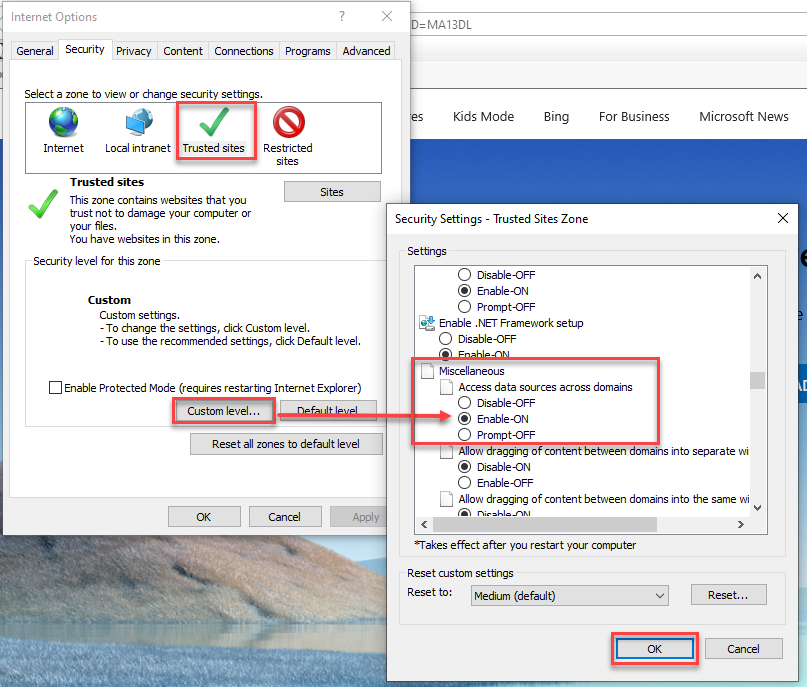 Then click the Sites button, add https://www.rockgympro.com and https://app.rockgympro.com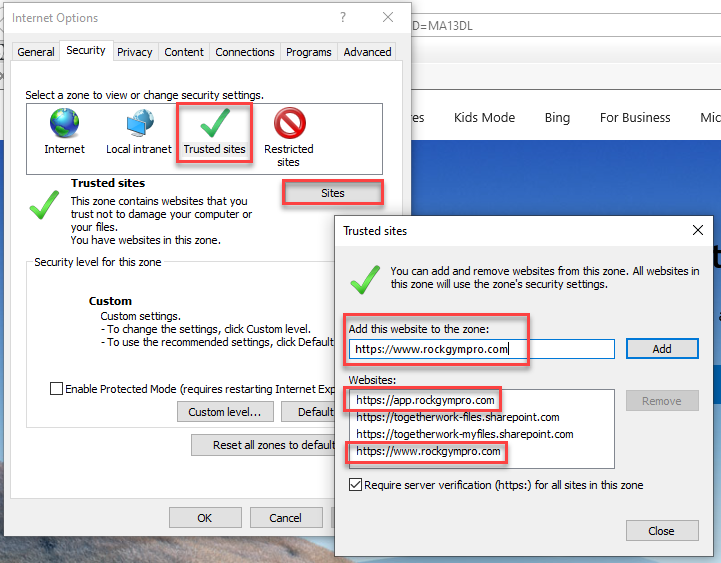 Test the connection from the POS to the Terminal.
4) Your private network may be blocking Stripe's DNS Resolution. If you have any issues connecting the terminals you may need to change your network's DNS resolution. If you have an IT person you could ask them to check if your network settings can be changed to resolve to either Cloudflare DNS (1.1.1.1 and 1.0.0.1) or Google Public DNS (8.8.8.8 and 8.8.4.4) you would want both your network and POS computers to resolve to either of those for best connection/speeds. Instructions for changing your DNS provider vary by device and router; you'll want to consult your router's user manual for specific instructions.