Rock Gym Pro has a feature that allows facilities to pass through a credit card surcharge fee to monthly EFT memberships that are paid with a credit card. Some states/countries have restrictions on allowing credit card surcharges. Check your location's laws before implementing the billing credit card surcharge in your RGP Database.
The setting can be found in RGP Data Entry - Manage - Settings - Payment and Billing - Credit Card Surcharge Percent. Some states/regions require the surcharge to be displayed as a separate line item on the invoice/receipt. If you are in one of those areas be sure to check the box to "Show surcharge as a separate line item" (see example invoice/receipt below).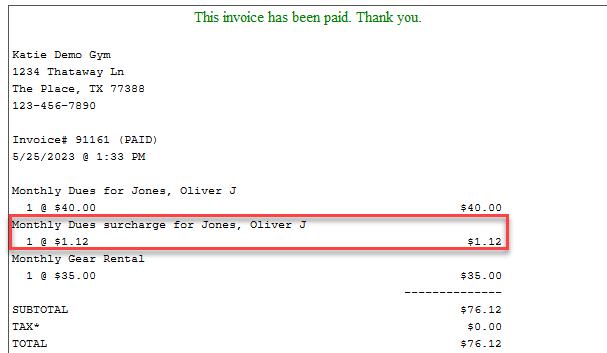 Please note:
The RGP Setting for credit card surcharge percentage is only applied to the RGP Billing monthly dues product when monthly EFT Billing is run. Members that use credit cards for monthly billing pay the credit card surcharge percentage in addition to their monthly dues. Any members paying via an ACH payment method will not see that surcharge.
The surcharge percentage is not added to billing add-on products. In the screenshot above, you can see that the surcharge is applied to the monthly dues but not the monthly gear rental add-on.
The surcharge percentage is also not added to on-account sales added to a customer's account at the POS, online credit card transactions, or POS credit card transactions.
POS Workarounds:
If you are a facility that would like surcharges added for POS credit card transactions, there is a workaround. You can add the surcharge to your product's pricing and then offer a cash discount at the POS.