General Overview
A list of countries supported by Stripe is available at

 

https://www.stripe.com/global

  

The following currencies are supported:  US Dollar, Australian Dollar, Canadian Dollar, UK Pound, Ireland Euro, Singapore, Hong Kong Dollar, and New Zealand Dollar

Credit debit cards are supported, and most non-US gyms are moving to these instead of direct debit for their billing method since they are fully integrated into RGP.

Balances on customers can originate as invoices placed on account at point-of-sale OR via monthly dues posted on your billing date at

Manage -> Billing -> Post Dues

Your online Stripe account holds credit card details securely for your RGP customer records.   The credit card information is handled and stored only by Stripe, and the sensitive information is never handled by RGP or your local MySQL database

You are encouraged to watch the general (although somewhat outdated…) online tutorial video on

Billing with RGP

 .  The same general principles apply for Stripe billing
Requirements
You must be signed up for an RGP Paid Plan - Standard, Plus or Premium

You need a Stripe credit card processing account.  You can get a free account at

http://www.stripe.com

.  See Stripe integration details below.

You must have connected your Stripe account to RGP by following the steps outlined below
What You Can Do
Bill your customer balances and membership dues via Mastercard, Visa, American Express, or Discover cards… including the debit version of these cards (but direct debit is not supported by Stripe)

Securely store these credit card details at Stripe in behalf of your customer records in RGP

Use Stripe billing in conjunction with any existing ACH mock/simulated billing you may perform in RGP for third party direct debit processing.   Specifically - some of your customer records can be configured for credit card billing via Stripe/RGP, and the all the other customers can be billed as they are now with a mock/simulated billing export from RGP.

How to process mock/simulated billing (Video)



Partial refunds of Stripe payments are supported when the payment spans multiple RGP invoices.  This means you can refund a specific invoice in RGP and the payment will be partially refunded.
What You CANNOT Do
Direct debit is not supported by Stripe.  Debit credit cards are supported provided they are a Mastercard, Visa, American Express, or Discover debit card

You cannot partially refund an individual RGP invoice.  As outlined above, you can partially refund a payment with the payment spans multiple invoices.

You cannot issue credits to a stored credit card at Stripe.  This is a limitation of Stripe for security/fraud reasons.   You can issue "credits" within RGP that can be accumulated and charged along any subsequent monthly balances.

For multigym installations, the credit card information is NOT transferred between gyms when a customer is transferred.  
 Stripe Details
 NOTE:  If you already have a Stripe account working with RGP's booking system, then you can skip this section.   The membership billing uses the same system and you therefore have  it already connected.
Get an online payment account at

http://www.stripe.com

Stripe is a "full-stack" processor and this means there are no additional charges or requirements beyond their account and their fees for your online transactions.  It does not piggyback on top of your existing merchant account.

Stripe transaction fees are only charged for the transactions you process through the RGP booking system

Email your

test

Stripe public/private keys to

support@rockgympro.com

.

 Cut and paste them, do NOT send a screen shot

.  

We only need your TEST keys

.  We will send you a link to connect to your "live" side using Stripe's Connect service.  Make sure you activate your Stripe account's bank account.  This is a secondary step within Stripe

Ask Stripe about how you can get moved to a 2-day deposit schedule.

 They default to 7 days, but you CAN get moved to 2 days if you ask.

Stripe partial refunds are not supported for online booking transactions

If you can provide a rate history from your existing provider, Stripe is pretty good about matching rates.

Stripe rates vary by country - inquire about the specific rates for your country
Configuration
Go to Data Entry -> Manage -> Settings -> Payments and Billing and setup the Stripe billing gateway as shown below.  Click Configure and make sure your Stripe is configured.   If you get an error when you press CHECK STRIPE CONFIGURATION be sure to follow the steps outlined in the Stripe details above.
You must have sent us your Stripe test keys and received the "connection link" for the configuration to be complete.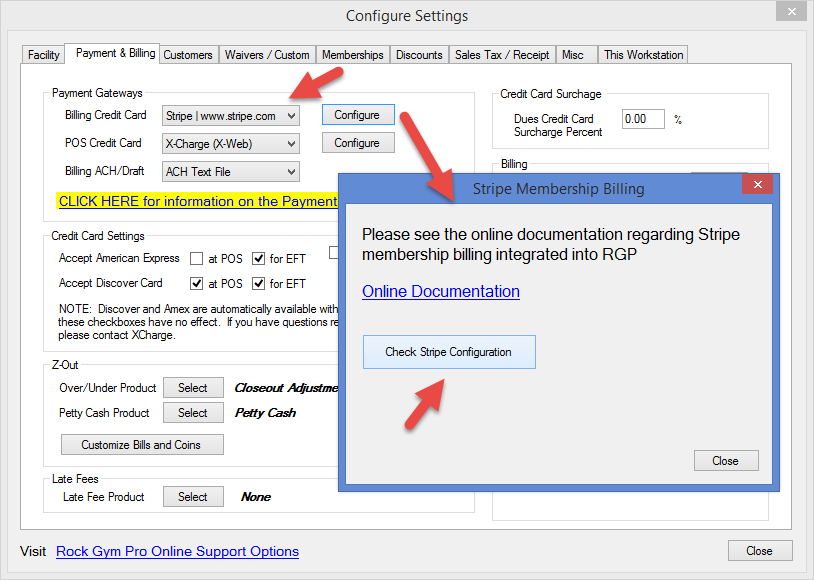 Assigning Credit Cards to Customers
Use the CHANGE CARD button available within the customer's record in RGP.   Once a card is stored, you can later change just the expiration date with the CHANGE EXP date button.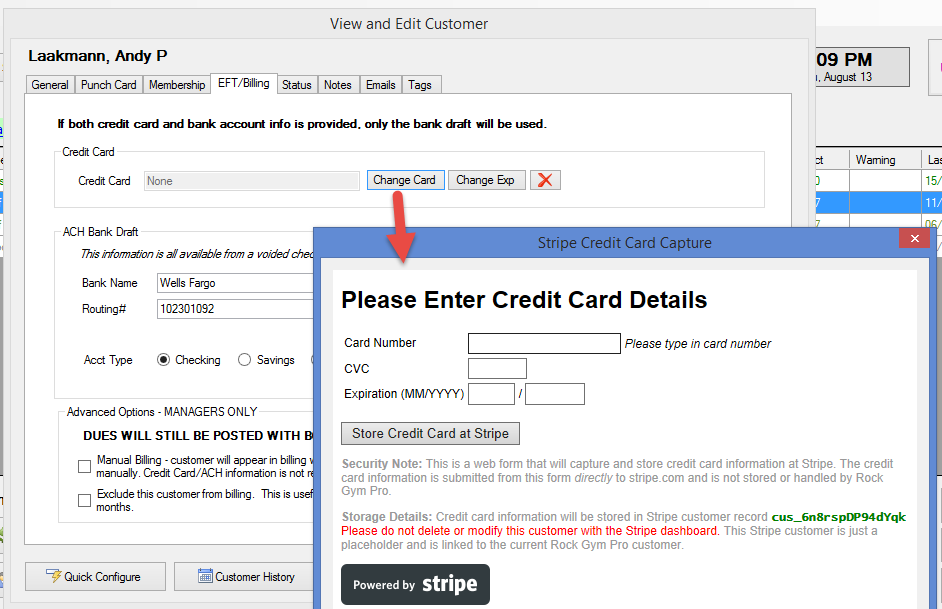 Charging Balances
Balances are changed in Data Entry -> Billing as shown below.    
Important Operational Note:  You can charge balances anytime you want.  For instance, you might charge balances periodically to retry declined payments… or because your members have placed items on account. You only POST DUES (which generates monthly member invoices) once a month.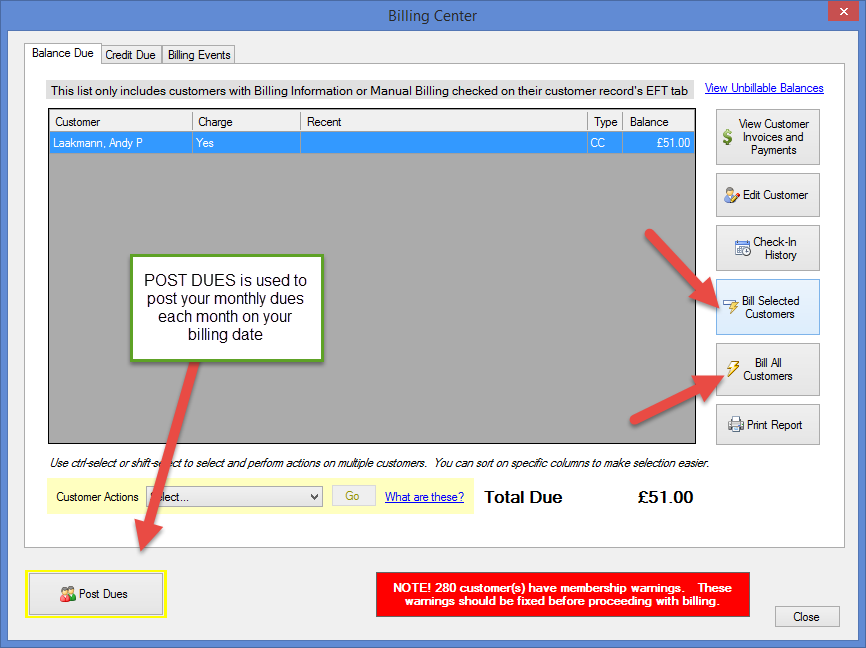 Processing Refunds
Invoices and payments processed by Stripe can be refunded directly in RGP using the following buttons.  DO NOT REFUND PAYMENTS DIRECTLY VIA THE STRIPE DASHBOARD!  Always use the integrated buttons within RGP to allow tracking within the RGP database.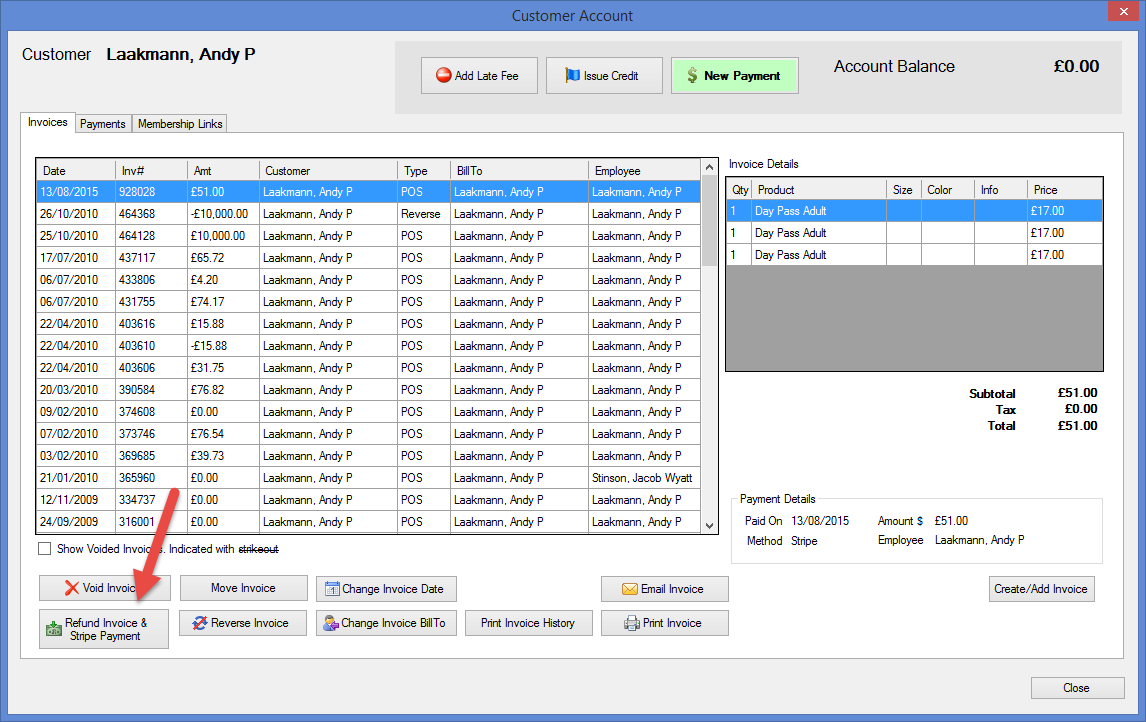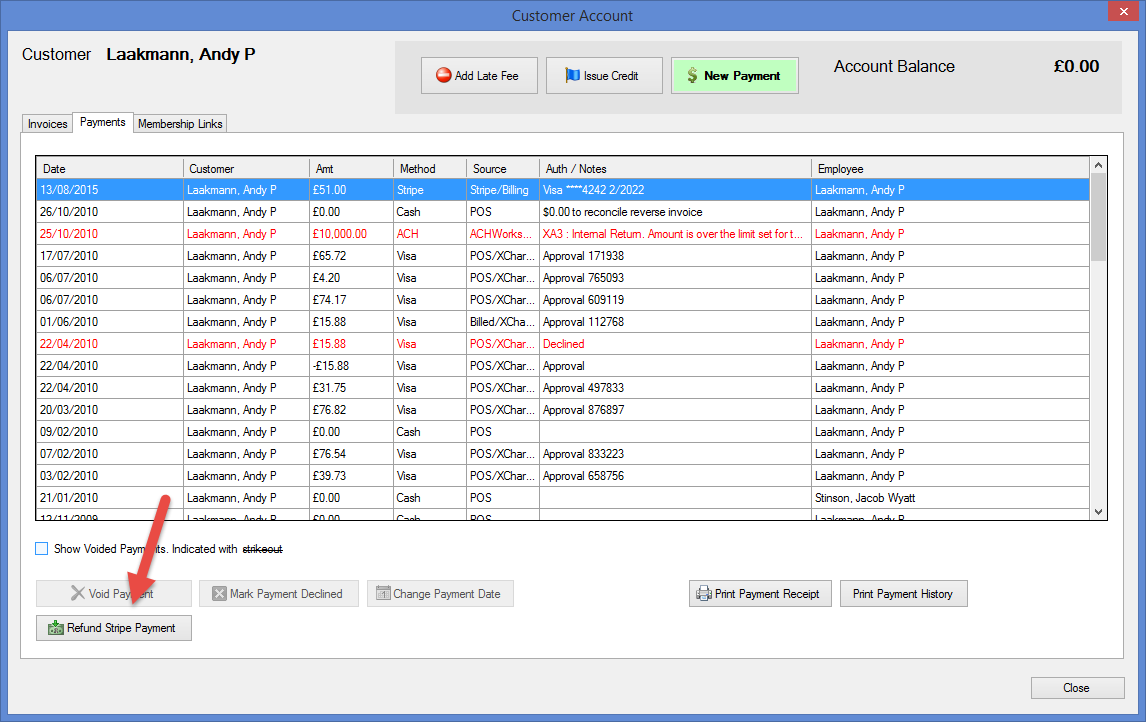 Managing and Assigning Dues
Dues are configured within Data Entry -> Manage -> Settings -> Memberships.  Dues can be assigned to customers on the customer's Membership Tab within their customer record.

SALES TAX: If your monthly dues are subject to sales tax, go to Data Entry -> Manage -> Products and edit the Monthly Dues, Prorated Dues, and Membership Freeze products.  Mark each product as taxable.  When dues are posted each month, sales tax will be added as a separate line item on the invoice assigned to each customer's.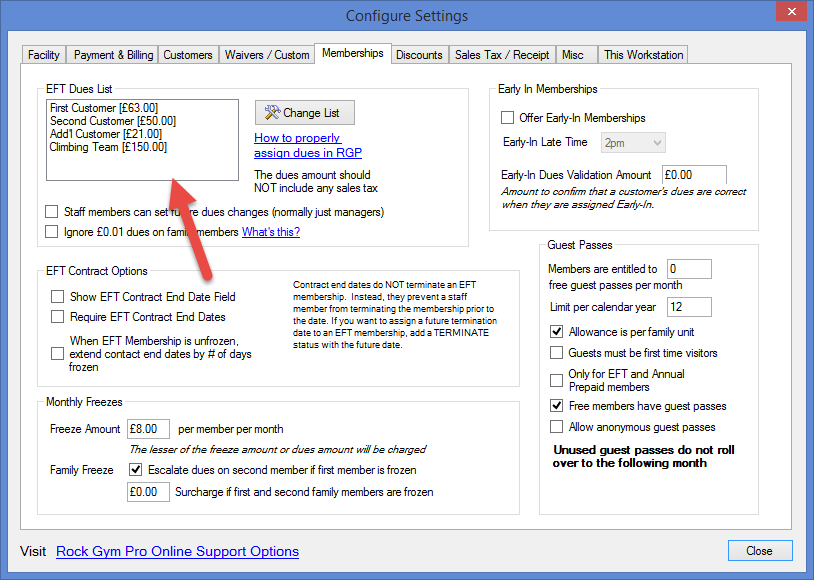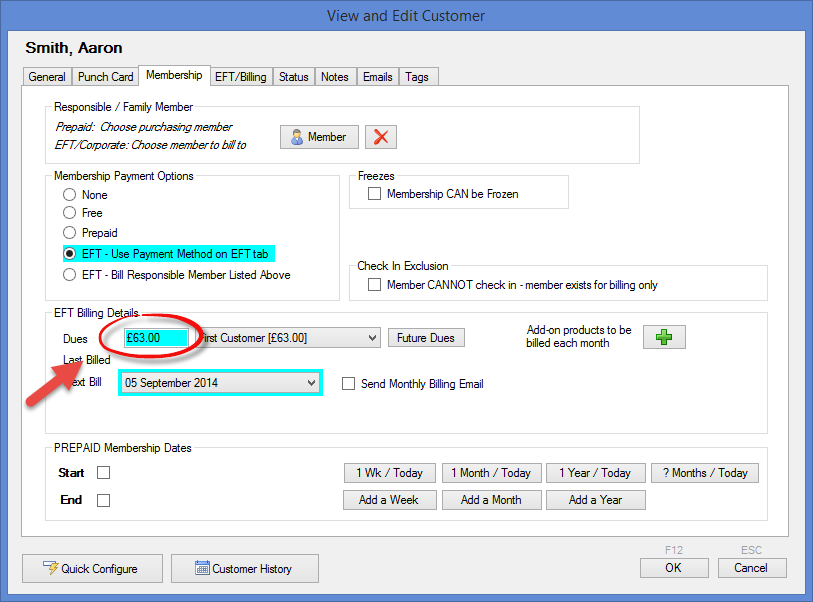 On Account Sales
Purchases at point-of-sale can be placed on account using the INVOICE ACCOUNT button when completing a sale at POS.  You can configure spending limits with Data Entry -> Manage -> Spending Limits.

IMPORTANT: If you do not configure a spending limit, only managers will see the INVOICE ACCOUNT button.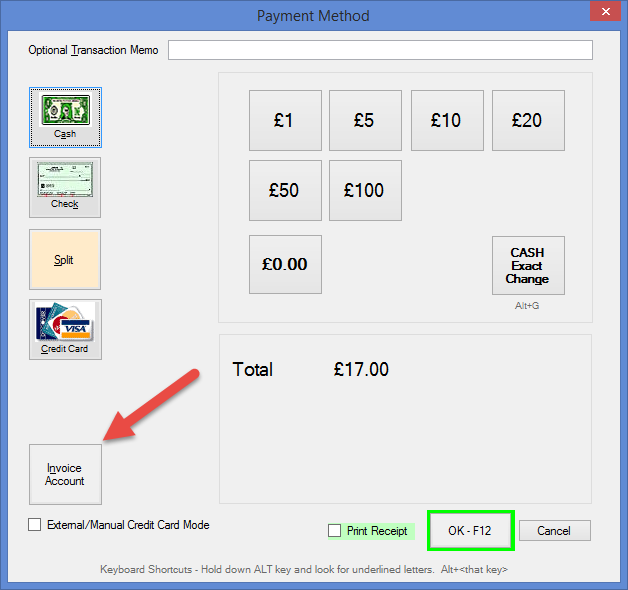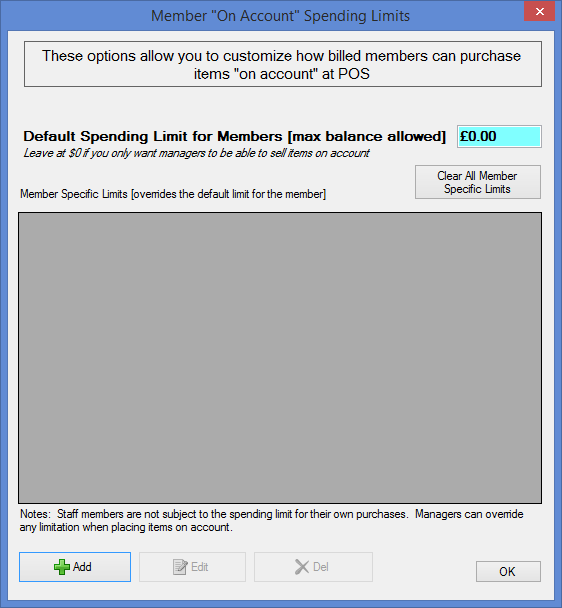 Stripe Reconciliation Report
There are two items to be aware of when reconciling bank deposits with Stripe:  

1) Time zones -  Stripe deposits are based on UTC time 
2) Fees - Stripe deducts fees as part of the deposits, hence their deposits won't match your z-outs in RGP.
To assist with the reconciliation, you can use the Stripe reconciliation report available in Data Entry -> Reports -> General Reporting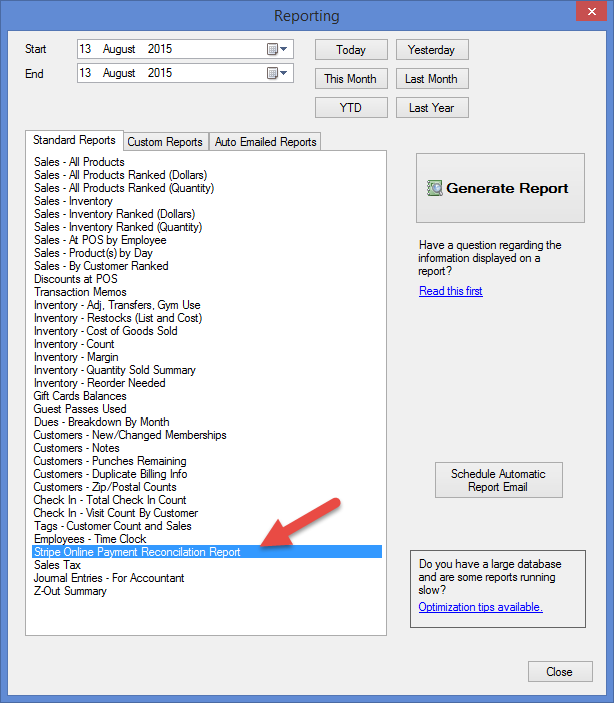 How The Integration Works
When you store a credit card for a customer in RGP, behind the scenes RGP is creating a customer record at Stripe and attaching the credit card number to that Stripe customer.   Effectively, this Stripe customer is an alias for the credit card.  
See the image of the Stripe dashboard below.   Note the warnings regarding deleting/modifying the customer record or refunding any payments.   Under most circumstances you want to avoid making any changes to these aliases customers OR payments within the Stripe dashboard.   Any changes within the Stripe dashboard will not be reflected in RGP.
And you absolutely do not want to delete these Stripe customer records!
NOTE:  There is no "test mode" available for the integrated billing between Stripe and RGP.   If you want to test out the system, use your own credit card and just refund the invoice within RGP after you confirm the operations.