If you are on a Premium Paid Plan, you have the ability to sell memberships and punch cards online and at your Waiver Kiosk stations at your facility. The article below shows how to set it up. 


Basic Overview of How The System Works:
1) Your customer completes an order for a membership/punch pass online or at your Kiosk.
2) A transaction is generated that is assigned like any other booking in RGP. Your staff can go to Data Entry → View → Online Transactions to see all transactions.
3) The customer is emailed the sales confirmation and, if enabled in Settings, the PDF contract.
4) In Data Entry, the incoming online transaction gets assigned by your staff.
5) A Member Change Request is generated. All details of the transaction will be applied to the membership within Data Entry.


* For an online transaction, the customer pays at the time of booking.
* For transactions at your Kiosk, the staff can pull up the unpaid invoice in POS and collect payment at the front desk.
Live Example Online

View a live example of how the Online Membership Sales appears on a website




How to Set it Up
 
1) Go to: Data Entry -> Manage -> Online Membership Offerings-Configuration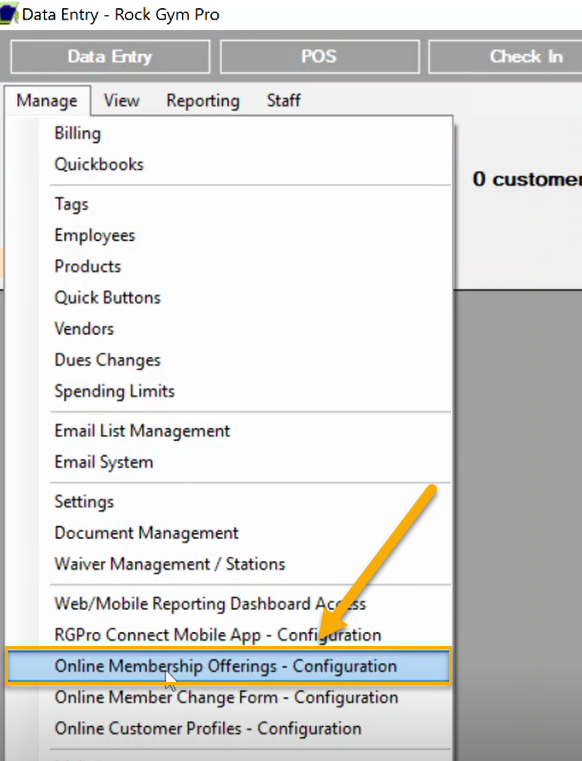 2) Click on on the Settings button and then the Participant Types tab.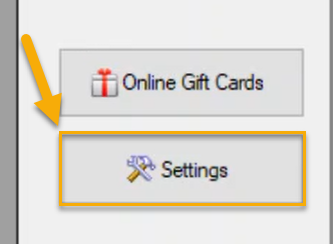 Participant Types are the different types of Memberships you are going to sell that may have different pricing rules.

3) Click on the Add button



4) Enter the name of the Participant Type/Membership - both singular name and plural name.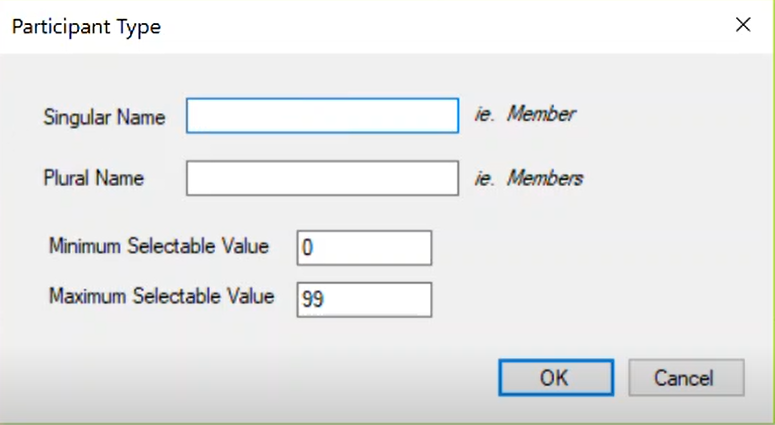 Example:
Adult/Adults
Child age 17 or younger/Children age 17 or younger
Active Military or Student/Active Military or Students


5) Enter the Minimum and Maximum number of each type that can be sold.
6) Once you have your Participant Types defined, Click OK to close the window.
7) From the Manage Membership Offerings page, click on the Add button to create a new Membership Offering.



8) Enter a name for the Offering (E.g. EFT Memberships)



9) Select the Offering Type

- Simple Quantity Pricing = Used for set priced items like a punch card or day pass. The unit price is the same no matter how many items are purchased.
- Membership Matrix Pricing = Used for prepaid or EFT/monthly billed memberships.
10) Select the Participant Types that are able to purchase your Offering.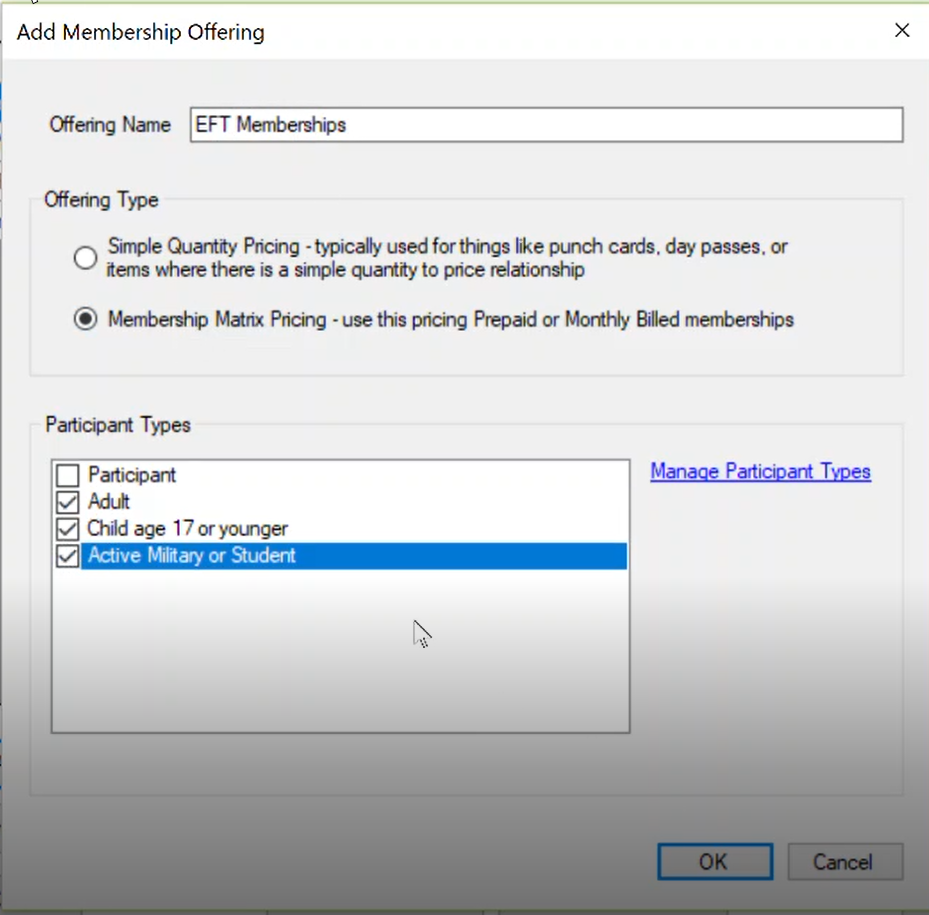 11) Click OK



EDIT OFFERING - PROPERTIES TAB

Once a new Offering has been created, you can adjust the properties, including the Participants Types Table, which will set up the Matrix Pricing Table (if Membership Matrix Pricing is selected).

The Participant Types Table allows you to choose a minimum and maximum number of participants for each participant type. The lower the maximum number, the easier it will be to configure the Membership Matrix Table (details below).

In the example below, the maximum number of Adult memberships that can be sold in one transaction is TWO (2). 






Custom Questions
There are two types of custom questions you can configure:
Order Level Questions - Questions that appear only ONCE for the entire purchase  (E.g. Does everyone on this transaction live at the same address?)
Participant Level Questions - Questions that will appear for EACH participant listed on the purchase.





Kiosk Payment Mode
You have the option of selling memberships on your website AND at your facility from Waiver Kiosk stations. The Kiosk Payment Mode section defines how payment should be captured if you're selling memberships from a Kiosk station.






Availability
You can limit the availability of when a membership is sold, for example when you have a membership sale.




EDIT OFFERING - ONLINE DISPLAY TAB

This section defines what the customer sees on your website. You can preview your changes before making the Offering live by clicking on the Preview Online Presentation button at the bottom of the page.



EDIT OFFERING - MEMBERSHIP SETTINGS TAB

Membership Options
If you're selling EFT/Monthly membership, you'll want to select Prompt for billing during checkout.



This will show additional settings at the bottom of the page. If you have Credit Card billing and ACH (bank account drafts) configured properly in RGP, these two boxes will be ticked.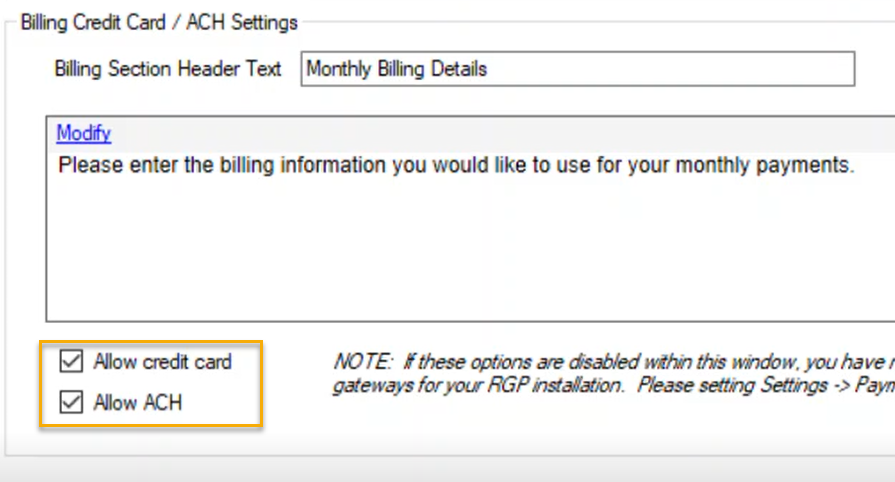 If these boxes are not ticked, you will need to go to Settings → Payments & Billing to configure.

If you're selling a Prepaid membership, you'll want to select Require membership start date.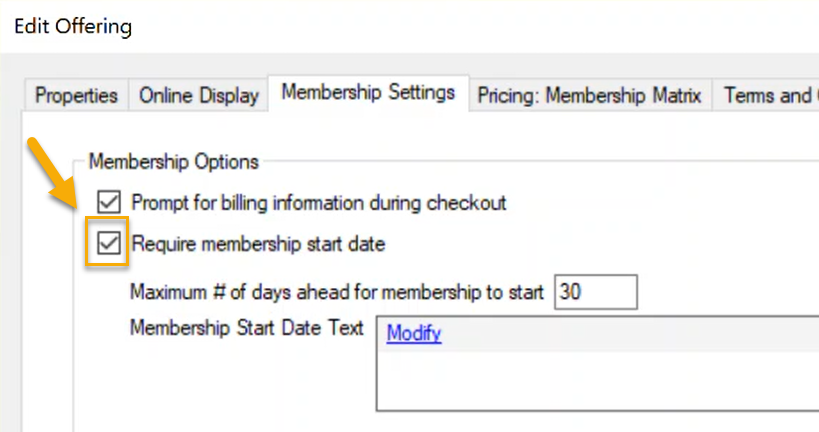 When this option is selected, a customer can pay for the membership but can choose to be billed a specified number of days in the future. You can add text explaining your policy in the text box.

EDIT OFFERING - PRICING MEMBERSHIP MATRIX TAB

The contents of the Membership Matrix shown here is determined by the Participant Types and the Min/Max number of participants you defined in the Properties tab. You will need to define pricing rules  for each possible combination of participants allowed for a sale.









This brief, FIVE minute video tutorial shows how to set up the Membership Matrix for EFT/Monthly Dues.




EDIT OFFERING - TERMS AND CONDITIONS TAB

You can choose to show customers your Terms and Conditions before they confirm their purchase. The text you choose to display is completely customizable.
You can add initials, checkboxes, signatures as well as billing dates and dues amounts.

An example of how this section appears online:




EDIT OFFERING - EMAIL SETTINGS TAB

When a customer makes the purchase online or at your Kiosk station, the order will appear in your RGP database as an online transaction. You can specify the text of the transaction confirmation email from this tab. You can also choose to email a copy of the purchase notification to yourself or anyone in your organization.



EDIT OFFERING - POST-PURCHASE ACTIONS TAB

This is where you can specify the settings for what happens AFTER a customer purchases an online membership.
Options on this tab include:
Generate a PDF contract document from the Terms and Conditions content you created. When the document is signed, you will be able to see the document under 'Find Documents' in RGP which your staff can then attach to the new member.



When you select this option, you will see additional settings below that allows you to define the type of document being created (E.g. EFT Terms and Conditions, Waiver, etc.)



Generate RGP Membership Change Request with the purchase details.
After a customer makes a purchase, the transaction would come into RGP as a pending Member Change Request in Data Entry.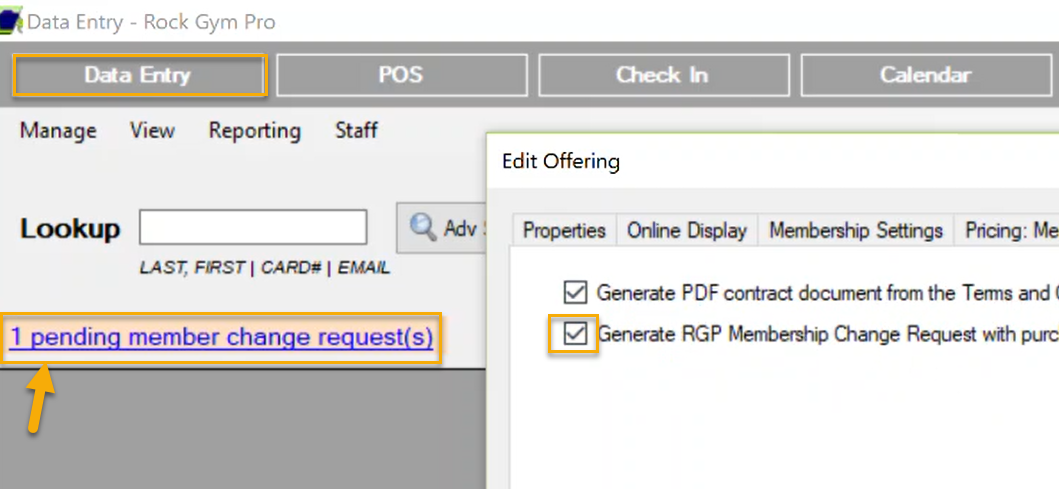 Your staff can then configure the new member as an EFT or prepaid member based on what the customer purchased and their desired start date.
Related Articles: