If you are on a Premium Paid Plan, you have the ability to sell memberships and punch cards online and at your Waiver Kiosk stations at your facility. Below are some Frequently Asked Questions about Online Membership Sales.
Can I sell prepaid and EFT memberships?
Yes.


Can I customize the membership pricing?
Yes. Using the Membership Matrix, pricing is completely customizable.


How is payment collected? 
If the transaction is completed online, payment is required at the time of purchase.
If the transaction is conducted in your gym at a Kiosk station, the customer can provide payment information in person at the front desk.


How is payment handled if a customer selects a start date in the future for an EFT membership?
The customer's prorated dues are calculated from the start date. Your staff should set up the membership with a Check-In Limitation from the Membership tab (shown below).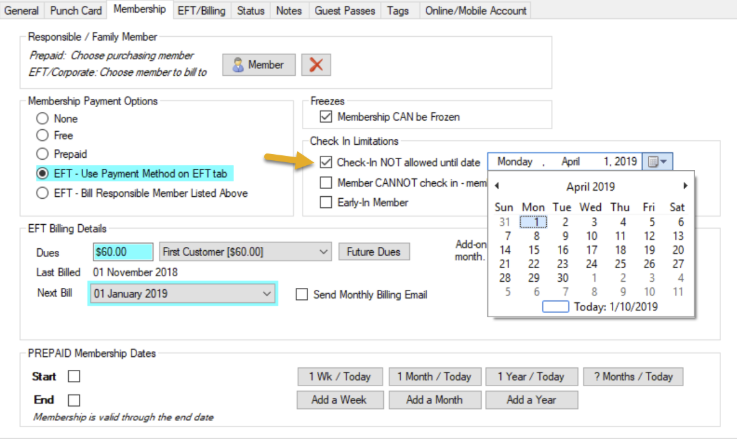 When a customer makes an online or Kiosk membership purchase, are they displayed as a guest until their start date?
Yes. Your staff will need to manually configure the membership in RGP. The customer is a guest until such time as the staff process the change request that is generated from the transaction.


Can I limit the number of days out a customer can choose a membership start date? 
Yes. This number can be ZERO days, if you'd like.


Can a customer provide ACH details from the Kiosk? 
Credit card and ACH billing information is captured as part of the process both online and at a Kiosk.


Can I sell add-on products attached to the membership?
Yes, you can add custom questions that modify the price/invoice and your staff will add them to the Membership Billing when processing/setting up the membership. 
How does this work with a multi-facility setup? Each of our locations has its own pricing structure and we have one location where you can chose to have access everywhere or just your home gym.
Each facility in a multi-location setup has their own set of Offerings, so each location can set up whatever pricing they choose. You do have the option to "Export Offering" and "Import Offering" if your multi-gym shares the same pricing structure.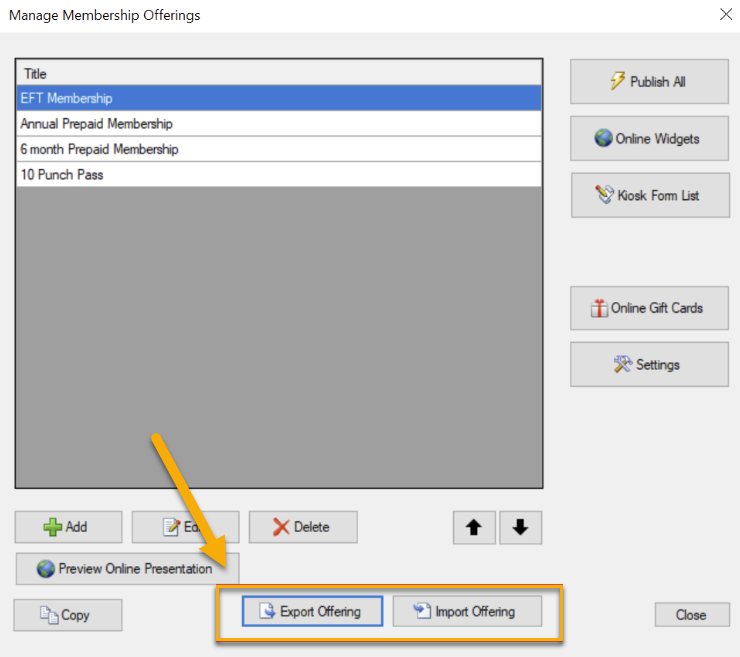 Will the agreement be emailed to the customer regardless of whether they fill it out online or at a Kiosk? 
Yes. The PDF will be attached to the customer's confirmation email when completed both online and at your facility.


Is the text of the membership agreement customizable?
Yes


Will the online EFT form collect credit card information in a way that lets us store it on the customer profile for billing?
Yes, if you use the integrated payment processing with Stripe or OpenEdge for billing in RGP.



Related Articles: