#1 Install and use the Webcam Tool
RGP includes a new Webcam Tool that can be downloaded to provide support for a wider variety of webcams. To download the Webcam Tool, go to Data Entry -> Manage -> Settings -> Misc and click Install Webcam Tool. Once installed, try capturing a member photo to see how it performs with your camera.
If once you install the tool you would like to restore RGP to its previous behavior, click Delete Webcam Tool as shown in the screenshot below.

#2 Use the Recommended Camera
Please use the RGP recommended hardware from the Rock Gym Pro deployment guide. We cannot guarantee other cameras will work.
The Logitech Quickcam Recommended. This should be attached to your retail computer. USB connection. The C310 Logitech also works. Note: the C910 did not work with RGP and might be that it is too high a resolution.
#3 Do not use a high-resolution camera
Your camera does not need to be a high-resolution camera, and the higher the resolution the larger your RGP offsite backup becomes which will take longer to transfer offsite.
Additionally, some high-resolution cameras do not work with RGP. If you see a black screen, it may be a resolution issue.
#4 You may need to disable any existing built-in camera.
If you have a built-in camera you need to disable, follow these steps:
Control Panel->Device Manager-and right-click on your laptop camera and click disable.
When you click on the Change Picture button you will be able to select the Logitech camera as the device, if you haven't made it the default camera.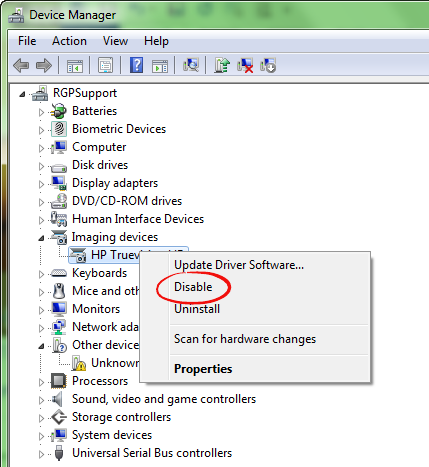 #5 Possibly Keep Your Camera Application Open
Sometimes all the above fixes still don't work and in those cases, you will need to make sure you have the camera application opened up and running in your taskbar menu on your PC that is taking the pictures.
See screenshot below: