As a Rock Gym Pro user, you have the option to create a free Smartwaiver account that can seamlessly integrate signed, digital smart waivers with your RGP account. This Smartwaiver integration is available to RGP users on the Plus or Premium paid plans.
Before setting up the Smartwaiver + RGP integration, you need to first create a 'Document Type' in RGP.
From Data Entry, go to Manage

and select

Document Management to open up the Document Management Configuration window.

To add a new document management type, click the

Add

button. You can now configure the following settings:
Document type name

Click OK to save the document type.
Note: If you are a multigym that shares waivers, you will need to create the Document Type in each database and the barcode must match in each database. You can read more about that here: Multigym: Creating Digital Documents
Once you have your Document Type set up, you can then link Smartwaiver and RGP:
From Data Entry go to Manage → Waiver Management / Stations
Enter your Staff PIN, click on the Smartwaiver Integration button, in the lower-left corner.
Click on Create FREE Smartwaiver Account
Complete the required fields and click Create Account
Your RGP and Smartwaiver accounts are now linked!
You'll receive an email from Smartwaiver with instructions on how to send your existing waiver to Smartwaiver so they can convert it into a digital smart waiver.
RGP will then send you an email once your waiver has been converted (generally takes less than one business day) by the good folks at Smartwaiver.
Once converted, you'll need to add your Smartwaiver to the list of documents in the RGP Waiver Management screen.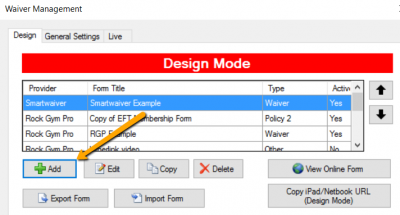 From the next screen, select Integrate an existing Smartwaiver.com form, choose the document and then click OK.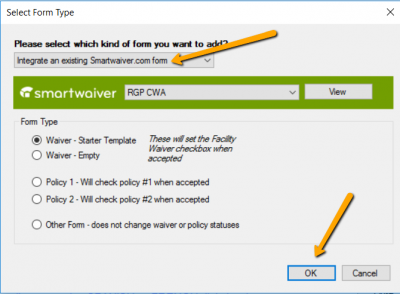 Make sure the Form Active checkbox is checked and that you've selected the proper Form Type and Document Type, and have checked the Add extra document fields box.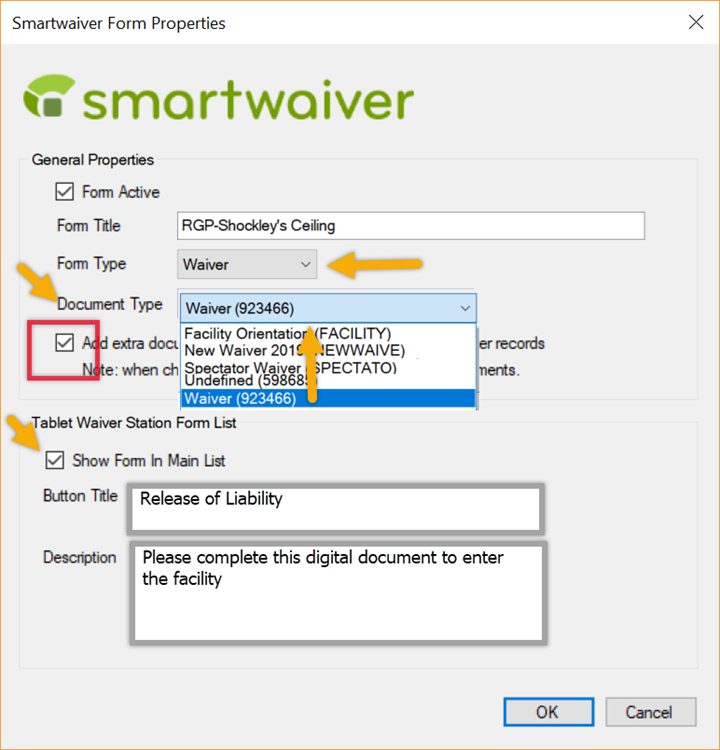 You'll see your new smart waiver in your list of documents in the RGP Waiver Management screen.

NOW TEST!
* Complete a few test smart waivers and ensure that the information from the waiver transfers properly to your RGP database. Try populating a customer record from the test waivers and make sure everything is set up correctly.*
Finally, click on the Publish Design to Live button.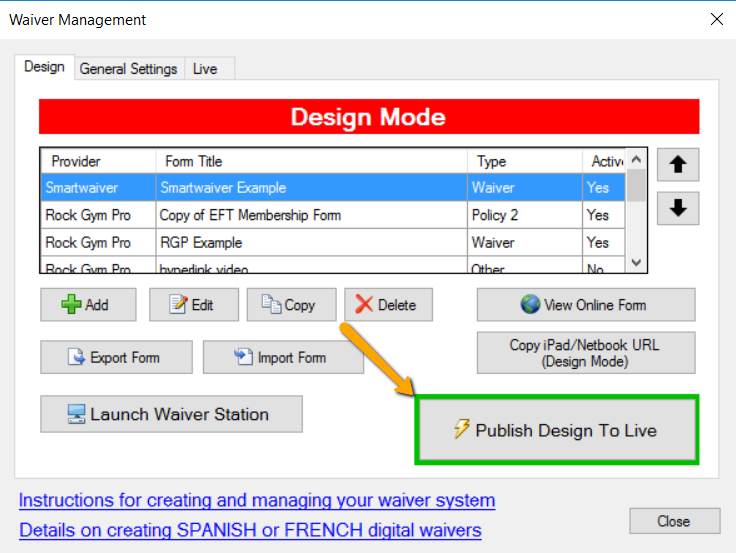 You're now ready to set up your Waiver Kiosk Station.
Related Links: