New features are ready to install in the latest update to RGP.
To get the update, launch Data Entry → Manage → About → Update
---
 New Features
1) Faster and More Reliable EMV Integration
EMV is the new credit card security standard. For U.S. or Canadian RGP users currently accepting EMV payments with OpenEdge, we're happy to announce an upgrade to the integration that will speed up processing time and increase reliability.  ACTION REQUIRED TO DEPLOY THE NEW INTEGRATION METHOD.  See details below.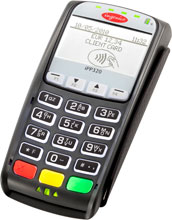 If you're a U.S. or Canadian based RGP customer currently using EMV integrated with OpenEdge:
Learn how to migrate to the new integration

If you're a U.S. based RGP customer NOT currently using EMV, now's the time to switch! 
Learn how to switch to EMV terminals integrated with OpenEdge.

2) Customizable Proficiency Levels / Belay Certifications
RGP users have  always been able to attach a proficiency level to a customer profile, but the designations were limited to a defined set of options. With this latest update you can now customize or add whatever proficiency designations you'd like - even beyond belay certifications!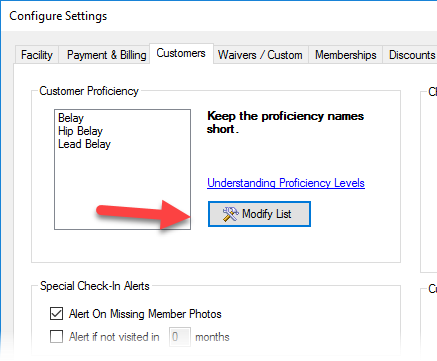 Learn how to customize proficiency levels
---
 Other Improvements
A new warning message will appear to the staff when new bookings are completed in-house and not all required questions are completed. The warning appears when the staff closes the

Manage Event

window after completing a new booking, or when clicking the

Send To POS button.

|




The

Custom Report SQL Windo

w is now resizable with scrollbars.

Youth Program Groups

->

Group Check-In

:  A horizontal splitter was added that allows the upper and lower pane to be adjusted.  This allows users to see more customers in the top pane if desired.

Manage Event

->

Participants

->

Find Documents

:  A new booking will be created ONLY if the customer is not already a bookee or participant.

Payment#

added to the Payments grid in

Invoice & Payments
Guest Pass

- When a terminated member is attempting to use a guest pass, the text was unclear. The text has been changed to "

Member is frozen or terminated, guest pass not permitted

."

When exiting

Manage

->

Email System

, if the system is in

TEST MODE

a pop up message will now appear.

Mobile account actions such as, linking and unlinking online accounts, are now recorded in the audit log.
---
 Bug Fixes
Change Form PDFs

occasionally failed to upload. Fixed.   

Staff Pin

was not required when adding or removing instructors from bookings.  Now a

Staff Pin

is required. Fixed.

When

Send To POS

is used with custom questions with a default value of 0 and associated with products, the line items were still created in POS even though the quantity was 0.  Fixed..

When a

Power

or

Closer

staff level is required, the window that appears now clearly indicates which access level is required.  

If the staff updated an email address of a bookee when sending a confirmation email, the action was not logged in the event change history.  The action is now logged.

Gyms were able to enter more than three letters for their gift card prefix. The three letter limit is now enforced.

You can now sort by date with archived members.