We've got (a lot) more features ready to install in the latest update to Rock Gym Pro.  See a list of ALL features below.
To get the update, launch Data Entry -> Manage -> About -> Update.
1. Smartwaiver Integration
As a Rock Gym Pro PLUS or PREMIUM user, you now have the option to create a FREE Smartwaiver account which can seamlessly integrate signed, digital smart waivers with your RGP account. Smart waivers are fast, include multi-minor support and comes with a dedicated Kiosk app for both iOS and Android devices.
Why use Smartwaiver?
It's faster!
Because of Smartwaiver's streamlined waiver layout, your customers will complete their waivers in half the time! 
Climber Parents Will Love You
With multi-minor support on the smart waiver, you have the option of setting up your waiver so parents can sign just ONE document for themselves and their kids. (Always check with your attorney or insurance company before making changes to your legal document)
Dedicated Kiosk App
Smartwaiver comes with a dedicated Kiosk app that displays only the waiver on your iOS or Android device. 
Smartwaiver Knows Digital Waivers
Smartwaiver is a sister company of RGP and the leading digital waiver solution on the market, processing over one million legal documents each month.  
Bonus:
You can set up the Smartwaiver integration to work with your other RGP documents!
Double Bonus:
Smartwaiver is included in your PLUS or PREMIUM plan.
> Learn more about the benefits of using Smartwaiver and how to set it up with RGP.
2. RGPro Connect App
We're super excited to announce the release of our first app – RGPro Connect.  This customer facing app will give your customers the ability to view your class availability in real-time and book classes from their Online Account or stored credit card – in just a few clicks. The app will also allow customers to check-in with a digital barcode (instead of a key tag) directly from their mobile device..
Note: In order for the digital barcode feature to work, you will need a barcode reader that can read mobile phone screens. We recommend the Honeywell Genesis MS7580. These scanners can read both mobile screens and existing key tags.
In the coming months we plan on adding a customizable news feed that you will be able to manage from your RGP account.
> Learn more about the RGPro Connect app and how to configure in RGP.
Other Features in This Update
Mobile App Invite Emails
Within the View and Edit Customer screen, staff can now send an Email Invite to users with existing online accounts, inviting them to install the app.   This email will not include instructions on how to create an online account (as the customer already has one). Once the customer downloads the RGPro Connect mobile app, you can assign a random barcode to the account allowing the customer to check-in from their mobile device.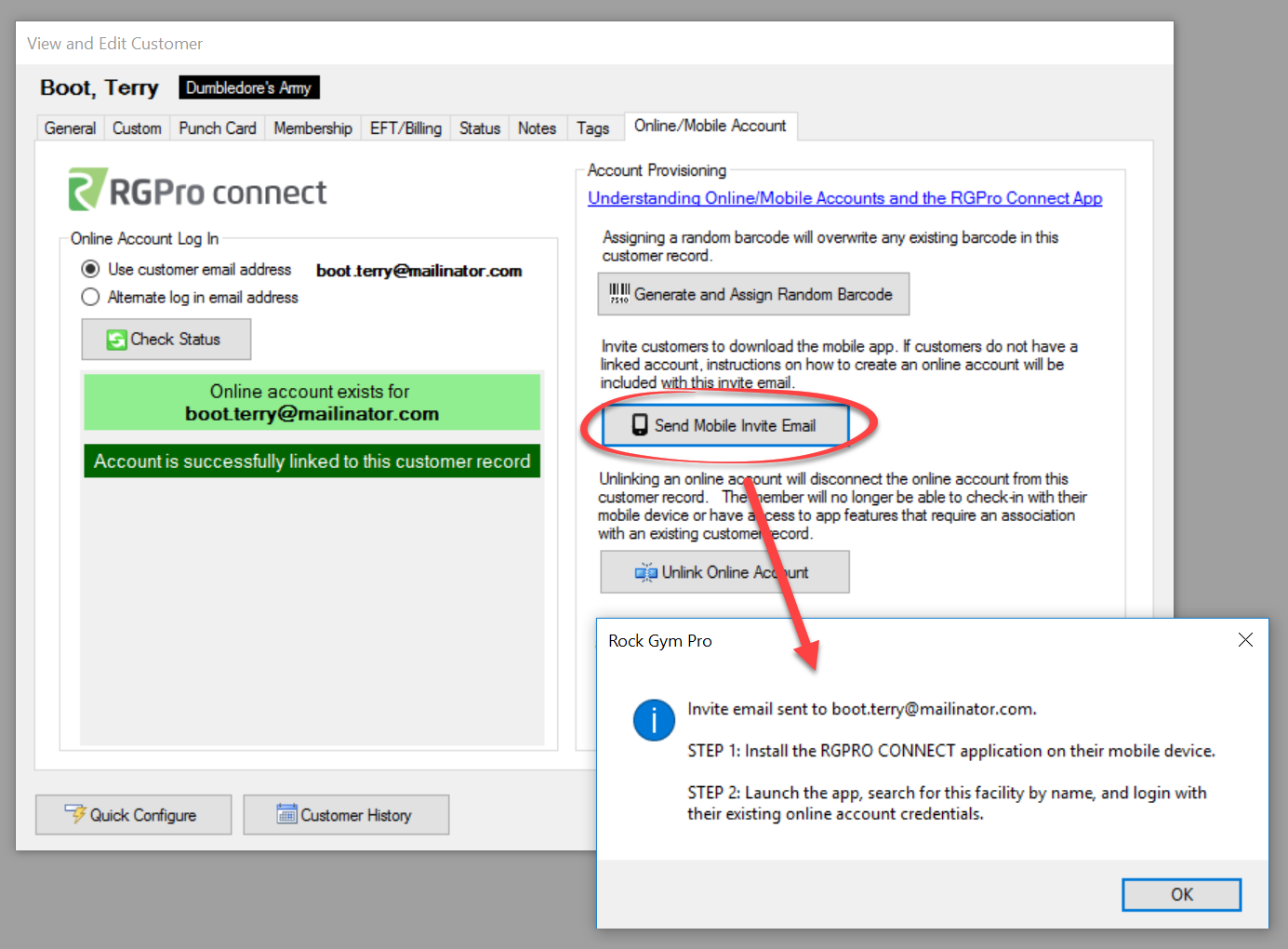 This email can be customized in Manage –> RGPro Connect Mobile App 
Reporting
Reorder Report
– "Quantity sales between date" has been added to the Reorder Report.
– Barcode / Last Unit Cost / Last Unit Cost Date columns have been added to the Reorder Report.
– Logic fixed on the Min/Max reorder qty.  Now, when reorder qty = 0, RGP will assume this qty is actually is 1. There was some confusion that the report wasn't working when the reorder qty=0 so the default is now 1.   See a detailed explanation of how the Min/Max qty works.
New Report : Sales – Placed On Account Totals
– You can now run reports on items that have been placed "On Account".
New Report:  Preview Billing Report
– Provides an estimate of upcoming billing dues and account balances. This report is available in both Reports and Billing.
Restock Reports
– Employee names are now included on the restock reports.
Product Notes
Product Grid Notes are now included in Product Search within POS and Manage Products.
POS – Product Grid Notes are now shown if screen width >1500px.  This can be disabled in Settings.
New Waiver Column 
When searching for a customer in the Select Customer window, you'll notice a new Waiver column which indicates whether the customer has a signed waiver on file.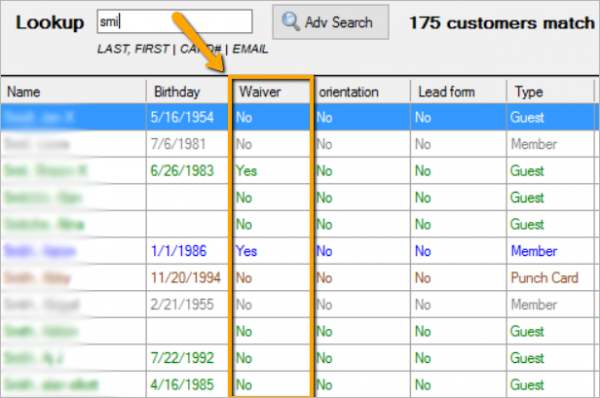 For Multigyms
From Manage Products: The status window in the lower, right of the screen now has a horizontal slider that allows you to make that window larger.  The last position is saved on each computer.
The Database status window is now larger to support companies with many gyms.
Data Entry search box
You can now search for customers by email address in the Lookup box from Data Entry.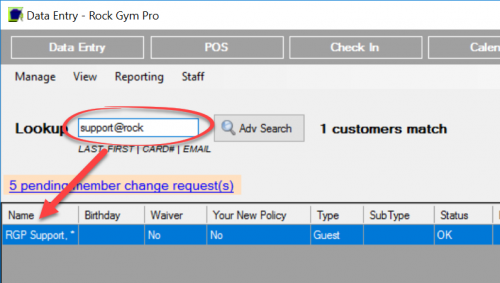 Calendar -> Online Widgets Improvements
You can now duplicate an online widget you've created.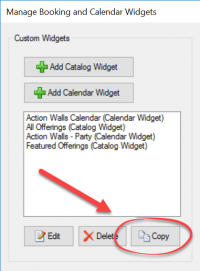 When building out your online widgets you can now select multiple offerings.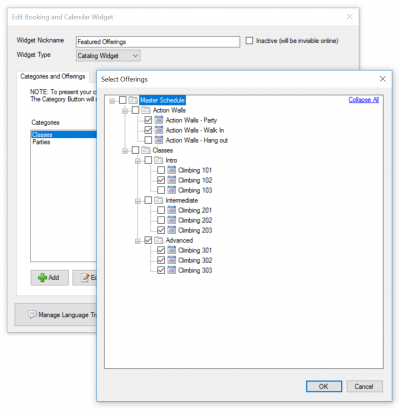 Customer Queries -> Mail Merge Export
The data for this export now includes phone number, date of birth, and email address. This change was implemented in order to  support the requirements importing customers for Facebook marketing.
Billing -> Billing Events
You can now review and manage billing events from past dates.

---
Bug Fixes May 10 – June 5, 2017
Updating to the latest RGP version will ensure all of the bug fixes listed below are installed.
To get the update, launch Data Entry -> Manage -> About -> Update.
 Share punch multi-gym facility rule enforcement. Before the update, a customer who had access to only their home gym was allowed to share a punch at a remote gym. FIXED
Edit Product Window – tab order for reorder text boxes FIXED
Manage Product -> Reorder Report – Before the update, the date was displayed as "null". FIXED
Sales Tax Rate changes are now displayed within the Sales Tax Report.  Only rate changes are shown – not product taxability.
Prepaid Unfreezes – Before the update, incorrect contract dates were shown in Status Memo.  FIXED
Waiver Expiration Email Trigger – Before the update, customers were sometimes receiving expired waiver emails when they should not have.  FIXED
Data Entry Barcode Swipe – Before the update, there was a race condition when an existing customer was already shown in the window. FIXED
Packaged Products – Before the update, Packaged Products were allowed to have quantity incremented in POS. This shouldn't happen.  FIXED