Web/Mobile Dashboard Menu Item
The new web dashboard is now available via a Menu Item in Rock Gym Pro at

Data Entry -> Reporting -> Web/Mobile.  

Instructions on activating the

Web/Mobile dashboard

are available.

NOTE

:  Managers must specifically be approved for access to the Web/Mobile dashboard by going to

Data Entry -> Manage -> Web/Mobile Dashboard

More reporting features will be added to the dashboard, and this menu item allows those reporting items to be available directly within Rock Gym Pro.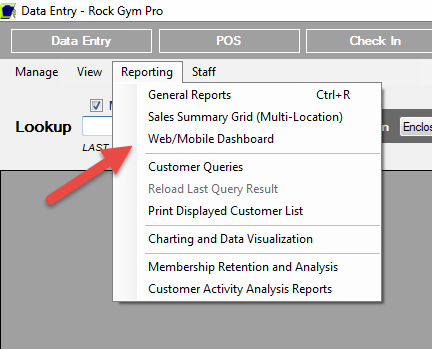 Multigym Improvements
Multigym MANAGER Access Controls for Reporting/Charting/Dashboard
IMPORTANT

- the default behavior for managers and multigym reporting has changed!

Managers will now default to only being allowed to view Reports, Charting, and the Sales Summary Grid for the

LOCAL DATABASE

.

If managers need access to reporting for remote gyms, this access must be configured in

Data Entry -> Manage -> Employee -> [select employee name] -> Edit

.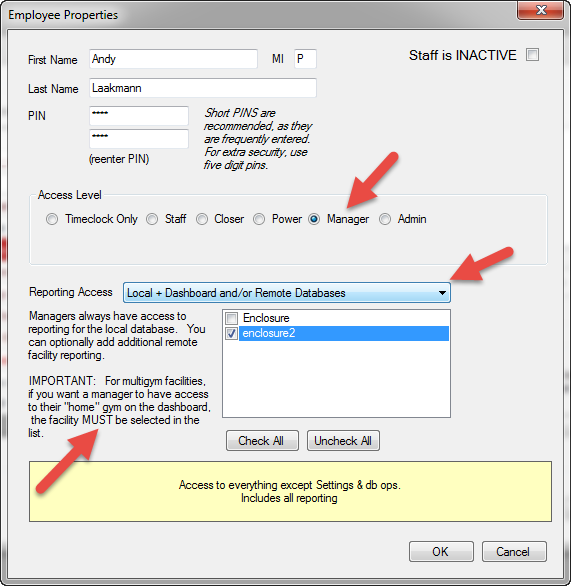 Data Entry -> Reports -> Charting and Data Visualization

is now

multigym selectable

.  When launching charting, you can select which location to view

Data Entry -> Reports -> Customer Queries

is now

multigym selectable

.  When launching customer queries, you can select which location to process.  Additionally, the specific constraints have been renamed to be more descriptive.

Improved

performance

when loading large customer lists from remote gyms
Data Entry
Find Documents Button

added to Participants tab in Manage Event (the event check-in window)

Charting and Data Visualization

now includes a new graph line for

Member Visits
Customer Queries

includes three new constraints

General: Customer Attribute Modified

| This is a

powerful new constraint

that allows you to filter on any specific attribute that was modified on a customer report

Membership:  Was a Member

| Allows you to filter on customers that WERE A MEMBER during a specific period in the past

Activity: Visit Count Multigym

| Allows you to filter on customers that visited specific gyms in a multigym environment

Inventory Adjustments and Restock Reported

: Gym location added for transfer-ins and outs
Bug Fixes / Minor Improvements
Sendgrid/Queue fixes

FIX:  multisession reminder emails in the Calendar sometimes included the date of the first event incorrectly

Many bug fixes and internal improvements

Various replication bugs fixed