After transmitting your ACH batch to ACHWorks, you will need to open up the billing payment window daily until you are able to download the transmission response from ACHWorks; this can be 5-7 business days later.
Sometimes a billing submission will indefinitely remain with the status of "Submitted", instead of receiving the expected response from ACHWorks and changing to "Completed". This is often due to:
(2) ACH batches being sent on the same day, and the (2) responses from ACHWorks are batched together as (1); RGP is looking for (2) responses and thus can not process the (1) single batched response. (Most common)
Certain types of declines (not common)
When you open the billing center window, RGP will have a popup message in Billing that clearly states: At least one settlement amount was not matched to a pending billing event. Please manually update the appropriate billing event's status to COMPLETED on the Billing Events tab of this window.
As the submitted response does not match with the actual deposit, you will have to manually edit the event to Completed. Then at this time, the payment will post to your Z-Out, based on the date you selected as the Payment Settlement Date.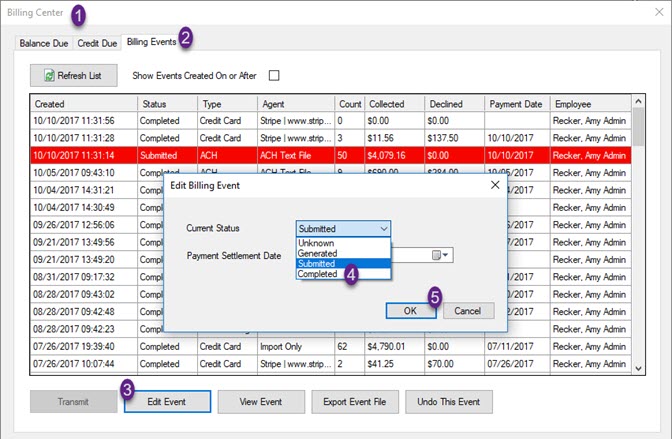 Then look at the ACH Responses tab, and select Returns- fill in a date range--this will list the returned/declined member, along with the reason why. Now you will need to mark that members payment as declined via that members Invoices and Payment window--Under the Payments Tab- click the button- Mark Payment Declined. The member will now Alert on Check In--Past Due Account Balance.