Mock Simulated Billing:
In RGP,

Data Entry > Manage > Settings > Payment & Billing

Select ACH Text File for the Billing ACH/Draft billing method.

Configuring recurring billed members

On Recurring Direct Debit Members, enter ACH information. You can enter their real account details (account number will be encrypted - but ACH payments are not held to the same PCI compliance as credit card information).




OR you could enter a test routing number such as 021000021 to satisfy RGP's requirement that some information is provided in those fields.

Configure the RGP members as required with the next bill date, dues, etc.

There should be NO warnings when saving the customer record if the customer is set up properly.

You will also need to record the real bank draft information with your bank/processor (via their website or however you communicate)
​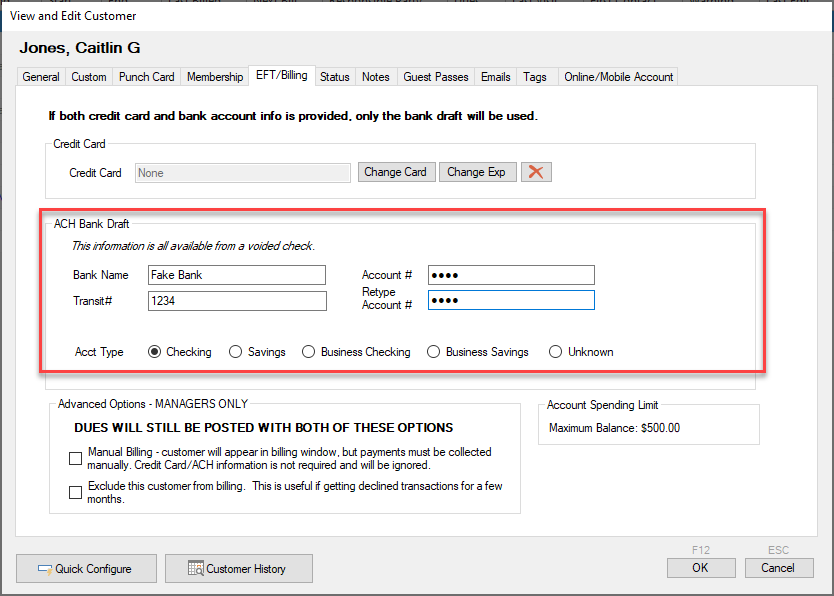 Once a month,

dues are posted and customers are "billed" in RGP

. If you have a month-to-month EFT and members who are paying via credit card, those payments will be collected at the time of billing through Stripe.




For Mock/Simulated Billing the transaction does not happen through RGP, but a record of payment is created.

In the Billing Window, under the Billing Events, the ACH Text File will be listed as "Generated" Click "View Event" to see the list of customers. You can click Print - to save or export the file (Excel, Word, HTML, CSV, etc)​​
​
Then click Export Event File - save to your computer and then send that report to your third-party provider to actually process the monthly billing payments. (I've attached a sample of that exported file)


Once sent you can change the Billing Event Status from Generated to Submitted.

When your third-party provider processes the payments and you know what payments were approved or declined you can change the Billing Event from Submitted to Completed.

Any payment declines should be marked as declined in RGP so that an alert appears when the customer checks in.

​




Once manually marked as declined in the customer's invoice & payment history you will have the option to email a declined notification to the customer.


​

Here

is a video tutorial on how to set up and process simulated direct debit payments in RGP.