September 19th, 2018
For locally hosted RGP deployments, skip to the bottom…
This document includes separate instructions for RGP Cloud vs Locally Hosted Deployment
IMPORTANT NOTE FOR FACILITIES MIGRATING FROM MAGSWIPE TO EMV: If you are an existing OpenEdge customer and OpenEdge is providing a new XWebID for migrating to EMV, you need to make sure that your existing stored credit card aliases will be linked to the new XWebID. The linking must happen at OpenEdge prior to inserting the new XWebID into Rock Gym Pro. And be aware that RGP will warn that the aliases will be lost when switching XWebIDs because it has no way of determining if the aliases are linked at OpenEdge. Thus, you will want to confirm with OpenEdge that the old and new XWebIDs are linked.
RGP Cloud EMV EdgeExpress Deployments with processing by the RGP Cloud Client
IMPORTANT! Beginning August 1st, 2018 - RGP Cloud now allows the EMV processing to be handled by the RGP Cloud Client for improved performance. Follow the steps below to configure the RGP Cloud Client to process your EMV transactions.
The steps below should be performed on each local workstation connected to the EMV terminal.
Download and install the OpenEdge RCM library. After installing the RCM, please restart your workstation.

If an older version of the RCM is installed, we recommend uninstalling it and restarting the workstation.

It is recommended if prompted, that you install this for all users on the system. Installation link:

https://www.x-charge.com/downloads/files/RCM%20Windows_GA.exe

After the restart, be sure the RCM is running in the Window Task Bar. Look for the icon below

Plugin the terminal and install any required drivers specific to the terminal

Download and install the latest version of the RGP Cloud Client:

https://app.rockgympro.com/redirect.php?tag=cloudclient
**You must be running version 1.0.29950 or later of the RGP Cloud Client**
Next, launch the

RGP Cloud Client and click Options > Payment Processing Setup > OpenEdge EMV

Close any open RGP Cloud connections
Click

Configure EMV Terminal
Within the Device Setup Window make sure you've selected the

proper device

and

com port

For

U.S. merchants

- the proper device is labeled

Ingenico iPP320 (US EMV)

For

Canadian merchants

- the proper device is labeled

Ingenico iPP320 (Canadian EMV)

Then click

TEST

to communicate with the device

You may need to try a few different com ports. Be sure the RCM is running! (See icon above).

Troubleshooting Ideas

Make sure the proper device is selected - see above

If you are having trouble connecting to the terminal, try restarting your workstation and/or different com ports.

You can also try pressing

LOAD FORMS TO DEVICE

and then

TEST

You can also close the Device Setup and RGP Cloud Client. Right mouse click on the Open Edge RCM in the TaskBar and select Device Configure there and try the same steps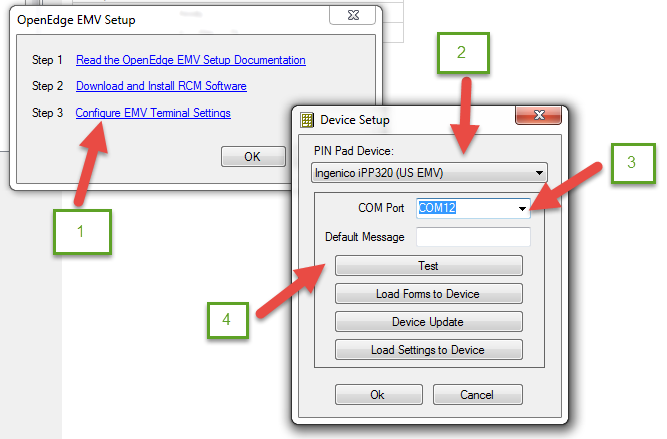 The steps below should be performed on your cloud host after updating the cloud client to the latest version
Connect to your

cloud RGP host

like normal

If any RGP applications are open, close ALL open RGP applications and restart Data Entry

Navigate to

Data Entry > Settings > Payments and Billing

Select XWeb/OpenEdge for both the

Billing Credit Card

and

Point of Sale Gateways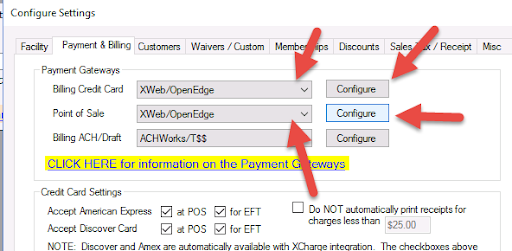 IMPORTANT - The following steps are to be performed on the BILLING and POS gateways. Note the extra step on the POS gateway to select "Cloud Client EMV Processing"
Entering Billing Credentials

On the

Billing Credit Card gateway, click Configure

and then enter in your XWeb/OpenEdge Credentials for your BILLING ACCOUNT

Click EdgeExpress EMV

as the capture method

Click OK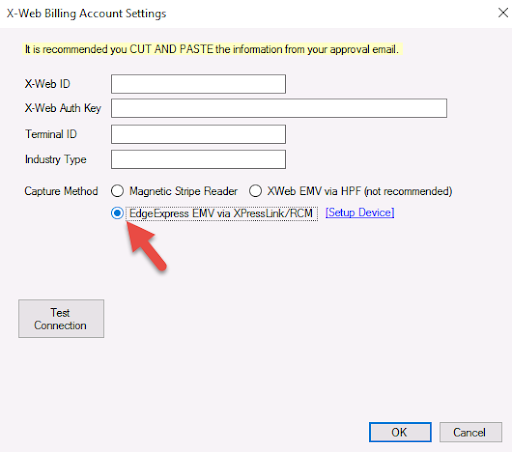 Entering POS Credentials

On the

Point of Sale gateway, click Configure

and then enter in your XWeb/OpenEdge Credentials for your RETAIL ACCOUNT

Click EdgeExpress EMV

as the capture method

Make sure

Processed via RGP Cloud Client

is selected

IMPORTANT - the "client/server" setting in this window will impact ALL workstations. It is a global setting for your facility. You must immediately move through the steps above for all other workstations connected to EMV terminals

.

Click OK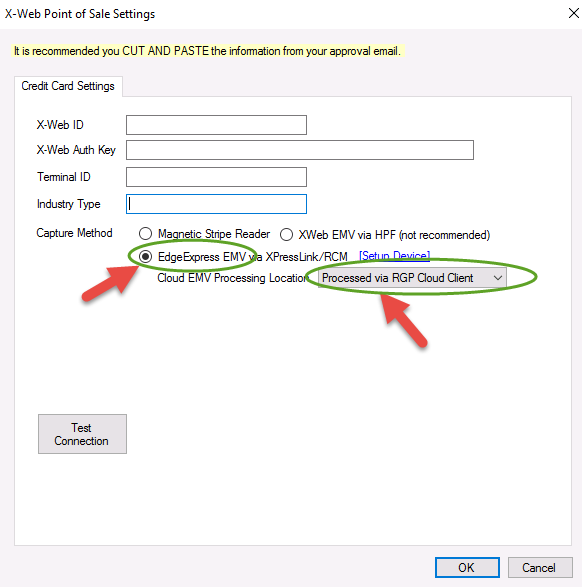 END OF CLOUD DEPLOYMENT
EMV EdgeExpress for Locally Hosted RGP Installations
The steps below should be performed on each workstation connected to the EMV terminal
Download and install the OpenEdge RCM library. If an older version of the RCM is installed, we recommend uninstalling it and restarting the workstation. It is recommended if prompted, that you install this for all users on the system.

https://www.x-charge.com/downloads/files/RCM%20Windows_GA.exe

Plugin the terminal and install any required drivers specific to the terminal

Once the RCM is loaded and running in the Windows TaskBar, right mouse click on it and select Device Configure




Within the Device, Setup Window make sure you've selected the

proper device

and

com port

For

U.S. merchants

- the proper device is labeled

Ingenico iPP320 (US EMV)

For

Canadian merchants

- the proper device is labeled

Ingenico iPP320 (Canadian EMV)

Then click

TEST

to test the communication with your device

Troubleshooting Ideas

Make sure the proper device is selected

If you are having trouble connecting to the terminal, try restarting your workstation and/or different com ports.

You can also try pressing

LOAD FORMS TO DEVICE

and then

TEST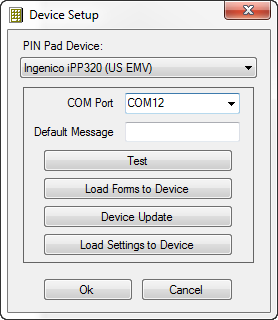 Launch to

RGP Data Entry > Settings > Payments and Billing

Select XWeb/OpenEdge for both the

Billing Credit Card

and

Point of Sale Gateways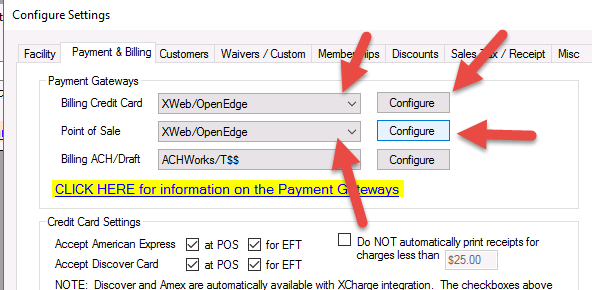 Entering Billing Credentials

On the

Billing Credit Card gateway, click Configure

and then enter in your XWeb/OpenEdge Credentials for your BILLING ACCOUNT

Click EdgeExpress EMV

as the capture method

Click OK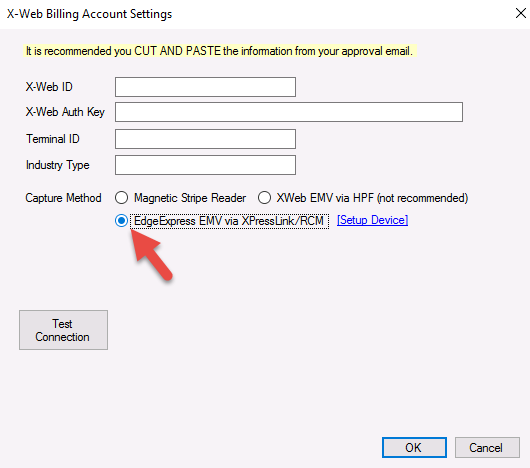 Entering POS Credentials

On the

Point of Sale gateway, click Configure

and then enter in your XWeb/OpenEdge Credentials for your RETAIL ACCOUNT

Click EdgeExpress EMV

as the capture method

Click OK