For Customers in the United States, Canada, UK, Ireland, New Zealand, Singapore, and Australia:
We've recently developed a new payments integration, RGP Stripe Custom. This integration allows us to act as the middleman between facilities and Stripe, which means we can offer customized rates, powerful support, fully updated and integrated terminals that accept EMV/Apple Pay/Google Pay, and the ability to consolidate all payments to one processor. If you are interested in this integration and are not in one of the above countries, feel free to reach out as there may still be an RGP Stripe Custom option available.
*** Installing EMV for the first time? Read our EMV installation document ***
This article is intended for existing OpenEdge merchants using the HPF (hosted payment form) method of integration to their EMV device who want to make the easy transition to the new Edge Express integration method.
If you are not currently processing via EMV, and would like to switch. Please visit the article on Switching To Open Edge EMV.
The Edge Express integration for OpenEdge EMV offers the following benefits:
Faster processing
Fewer errors
Substantially lowering the risk of "lost" transactions due to Internet Connectivity issues
Please follow these steps to switch from the HPF to the EdgeExpress Integration Method
On all computers with an attached EMV terminal, download and install the latest RCM version from OpenEdge
https://www.x-charge.com/downloads/files/RCM%20Windows_GA.exe
NOTE: While installing the RCM, you may get a command line popup with an error message similar to the screenshot below. This is not a problem and simply indicates that there was no firmware update available for the EMV terminal. The update was successful, despite this error message.
Within Rock Gym Pro, go to Manage > Settings > Payments and Billing.
IMPORTANT: For both Point of Sale and Billing (assuming you are using OpenEdge for both gateways) click Configure and select the Edge Express EMV integration method.
If you are using Stripe for billing, no action is required for the Billing Gateway
NOW GO TEST THE UPDATE!
Restart the RGP POS application and try a test credit card transaction
Confirm that you can successfully store a credit card on a member on their EFT/Billing tab using the new integration method.
Example command window you may see while installing RCM
No action is required as this window does not indicate an actual errorl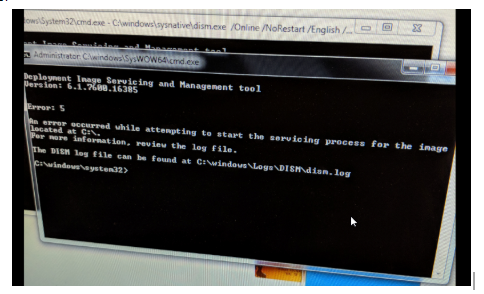 Settings To Change