Since events in the Calendar cannot span across midnight, to create a lock-in event you need to create the offering as a multi-session event, with one session going to midnight and the other starting after midnight. In this example, the first session will be from 10pm to 12am on Friday, while the second session will be for 12am to 8am on Saturday.
From the main calendar window click the

Manage Schedule

button.

Under the

Schedules

tab, click the

Add

button and then

Add Offering

from the drop down menu.

Name the new offering. In our example we call it

Lock-In

.

Now we need to add our rules. For more information on using rules to create multi-session schedules check out the article below.



- Click

Add Rule

and select

Days of the Week

. Select

Friday

only and click

OK.


- Click

Add Time

and select a start time of 10:00 PM, lasting two hours. Click

OK.


- Click

Add Session

and enter 1 for Offset Days, which tells the system to make the next session the next day. Then select a start time of 12:00 AM, lasting 8 hours. Click

OK

.   

Click

Close

.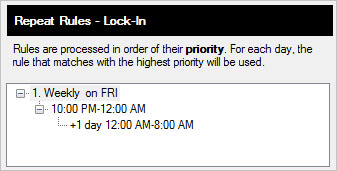 Related Articles:
Creating a multi-session offering