This article is intended for facilities that are migrating from a Locally Hosted RGP Deployment to RGP Cloud. Your RGP dues will be increased to your new rate as soon as you receive your cloud preview information.
The Cloud Migration Preview Period allows you to confirm that all workstations, receipt printers, cash drawers, and credit card terminals are operating properly with your cloud host.
Step 1 - Access your Cloud Host
Using the credentials that were emailed to you, follow the instructions to Access Your Cloud Host.

Step 2 - Testing Hardware and Configuring EMV terminals
OpenEdge EMV Terminals
If you are using the OpenEdge EMV integration, please review this document to make sure the terminals operate on your cloud host using the EdgeExpress integration.
It's best just to work through the cloud deployment steps for each EMV connected terminal and confirm/update the settings as required.
Receipt Printer and Cash Drawer
On the workstations connected to your receipt printers, within the cloud client application:
Click Options > General Settings
Point to your receipt printer
Create a fake cash transaction within RGP on the cloud host's cloud database
Confirm your receipt printer works as expected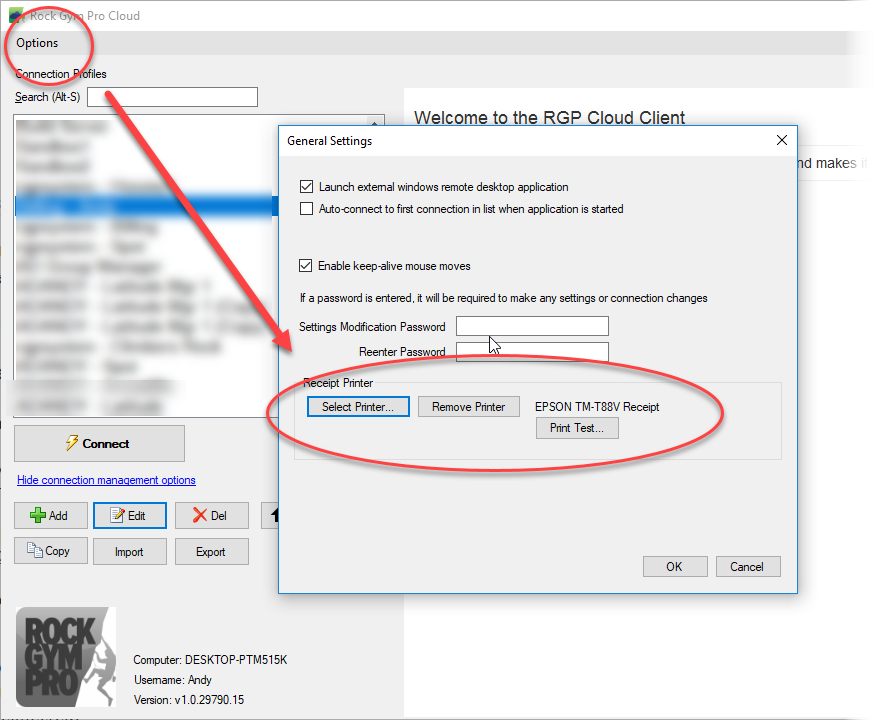 Settings By Workstation
Some RGP settings related to the receipt printer and cash drawer are by the workstation.
For these settings, you will need to reconfigure them as required on your cloud host for each relevant seat.
Login to your cloud host and navigate to Data Entry > Manage > Settings > This Workstation.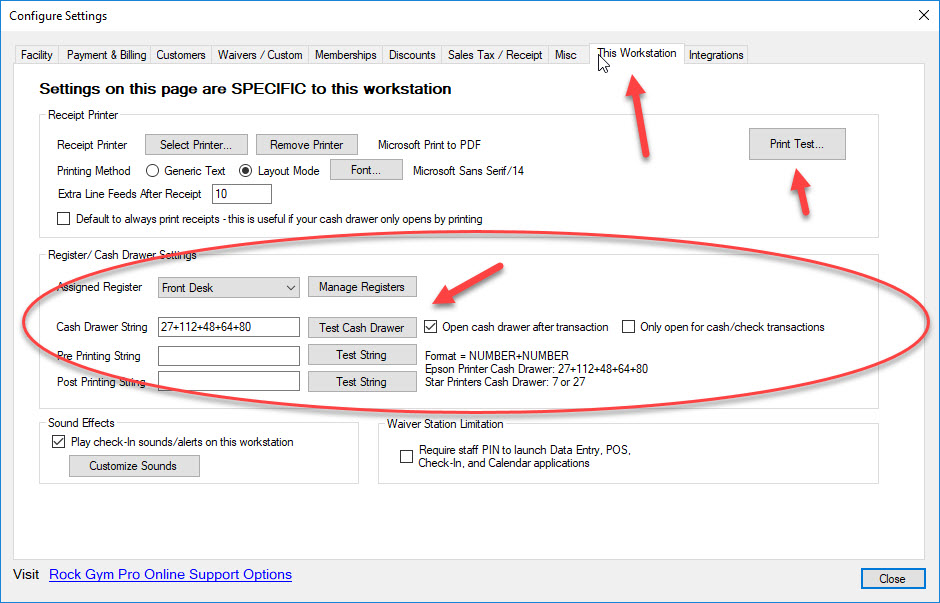 Web Cameras
Within Rock Gym Pro on your cloud host, please create a test customer and confirm that you are able to capture a webcam image.


Step 3 - Going "Live" with RGP Cloud
Before going live with RGP Cloud, be sure that each of the six steps listed below has been completed on EVERY Rock Gym Pro workstation:
RGP Cloud Client installed on all Rock Gym Pro workstations
For fixed-seat workstations, the credentials must be paired with the computer. See the section on Pairing Computers in the Access Your Cloud Host article.
Appropriate cloud seat credentials entered into each cloud client installation
Cloud connection tested and confirmed for each workstation
Web camera and Receipt Printer tested and confirmed for each workstation with the connected hardware
IMPORTANT: If you are using the OpenEdge Integration make sure the OE EMV terminals configured and operating for each workstation.
If you are using Stripe Terminal make sure Terminals and workstations are connected via Ethernet vs. Wifi.
IMPORTANT: You will perform the switch-over steps yourself at a time convenient for your business
Please read the Switch Over Steps document to familiarize yourself with the switch-over steps. You will follow the steps in this document when you are ready to go live.