Best Practice for Reconciling RGP Reports to Stripe Payouts:
Stripe batches out their day for payouts at midnight Universal Time (12 am UTC) and has a 2-3 business day payout delay that varies by country (see more on payout schedules by country here).

The difference in time zones and payout schedules can cause confusion reconciling your Stripe Custom payouts to your sales reports in RGP showing payments made in your local 24-hour period.
With the addition of RGP Stripe Custom the RGP developers have been able to add additional features and reports to make reconciling your Stripe deposits easier than ever.
Reconciling your RGP Payments to Stripe Payouts:
Before you begin - please read through this support article that goes over this new feature:
Grouping Payments by Stripe Payout Batch for Accounting


Step 1: In RGP Data Entry – Manage – Settings – Integrations -Adjust Stripe Journal Entries for Fees/UTC – Check the top 4 boxes:
Use actual Fees (only on Stripe Custom payments)
Modifying entries groups Stripe payment by Stripe Payout Batch as of (the date you started using Stripe Custom – or as early as September 20, 2022)
Modify Journal Entry Report [Reporting – General Reports – Journal Entries for Accountants report]
Modify QuickBooks Journal Entry Transfers [Manage – QuickBooks] if you use QuickBooks at your facility.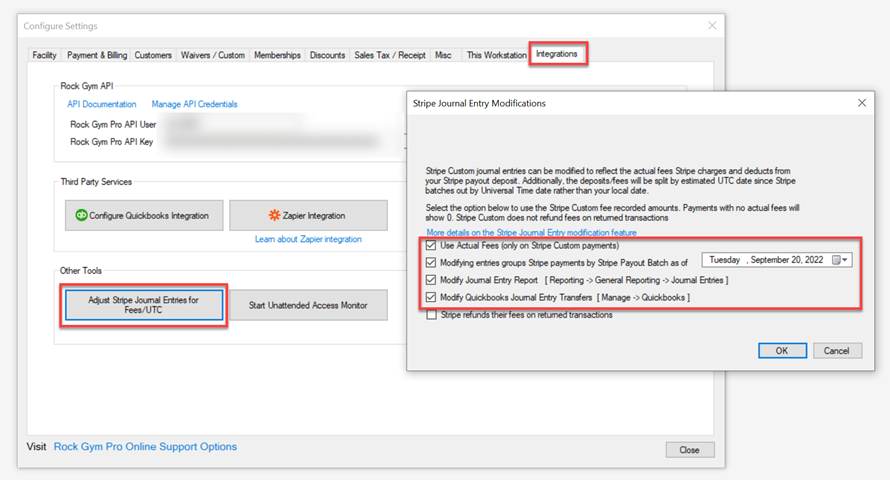 Step 2: In RGP Data Entry – Reporting – General Reports – Stripe Payout Reconciliation by Payout Batch Report – Generate Report for the date range you are reconciling. Repeat for the Stripe Reconciliation Report by Payment Report These reports can be scheduled to be automatically emailed on a set schedule.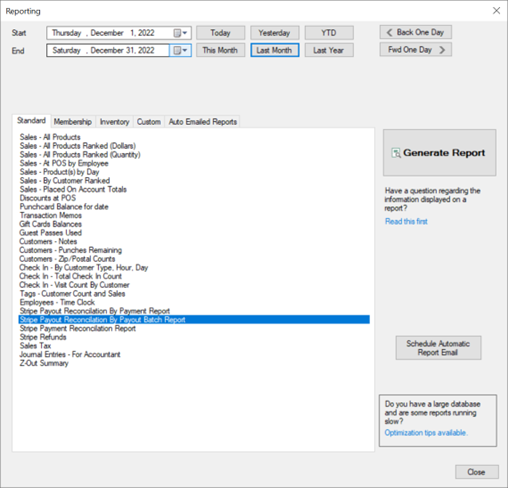 Read more about these reports and how to utilize them more: Stripe Custom Payout Reconciliation Reports

Please note these reports only show for facilities using the RGP Stripe Custom integration. If you'd like more information about switching your database to the new payment integration please reach out to support@rockgympro.com for more information.
Step 3: Scroll down to the bottom of each report and see if there are any unmatched payments (i.e., payments in a Stripe payout that can't be matched to a payment recorded in RGP).

If there are any unmatched payments investigate those before transferring the journal entries to your accounting software. Search the amount in payments.rockgympro.com to see if the payment was refunded but not recorded in RGP. If you can't figure out why a payment is unmatched, please reach out to support@rockgympro.com for help.

Any dates that have an unmatched payment may need a manual entry to fix the transfer amounts.
See this support article for step-by-step instructions on how to record a payment in RGP that was successfully charged with Stripe but not recorded in RGP (typically caused by an internet issue between Stripe collecting and RGP recording) - Correcting RGP Stripe Reconciliation where the payment was collected with Stripe but not Recorded in RGP
Step 4: If all payments are matched, then you can pull your Journal Entry Report – For Accountants (RGP Data Entry – Reporting – General Reports – Journal Entry Report for Accountants) to upload to your accounting software.

If you use the RGP QuickBooks integration you can transfer the Journal Entries for that date range to QuickBooks (RGP Data Entry – Manage – QuickBooks). Please note, the first time you adjust your RGP settings to group Stripe payments by Payout Batch you may need to re-map your Journal Entry Lines to your QuickBooks Revenue accounts.



Please note that the RGP Journal Entries will report the date that the payout was initiated which is typically 1 day before the payout is deposited. Bank holidays/closures can sometimes affect the deposit date.


Step 5: Outside of Rock Gym Pro open your QuickBooks account or your accounting software. Once the Journal Entries by payout batch have been added you can then easily match them to the Stripe payout deposits. The Stripe Fee Journal Entry line can be mapped to your revenue account for business expenditures.